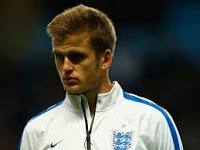 Manchester United will have to pay Tottenham Hotspur £50 million if they want to sign midfielder Eric Dier, the Telegraph reports.
It says Spurs chairman Daniel Levy's valuation "is more than United expected to pay for the 23-year-old England international."
Dier has emerged as a leading target for United boss Jose Mourinho, who "regards him as the long-term replacement for Michael Carrick."
The Telegraph adds that Mourinho "has made it very clear that he wants Dier," who also played in defence for Spurs last season but is seen as a key component of a revamped Old Trafford midfield.
United, though, will have to dig deep to bring him to Manchester, with the player having signed a new deal in September and Levy unwilling to budge from his valuation.