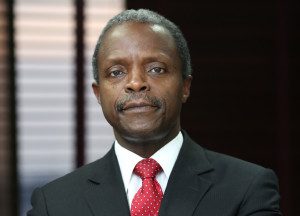 Gov. Ifeanyi Okowa of Delta has urged all Nigerians to support the Acting President, Prof Yemi Osinbajo in his effort to ensure a united and peaceful nation.
Okowa made the call on Friday while inaugurating a private broadcast station "Bridge Radio 98.7 FM" in Asaba, in the company of Gov. Godwin Obaseki of Edo.
Okowa observed that the acting president, within the last few days had worked tirelessly to unite the country.
He, therefore, underscored the need to support the acting president in every way possible.
He urged the people to tailor their words toward uniting the nation whenever they exercised their freedom.
The governor expressed happiness that the radio station was coming on air at a time when quest for information among Nigerians was on the increase.
"Information is power; that is why we are happy that this station is coming on air this time in our nation's history."
"Information is power when you disseminate the right information because a misinformed man is dangerous to the society."
"We should properly educate our people to have a more united country; the press can make or mar this nation, depending on what voices that connect the people."
"This is because we are in trying times as a nation, we are in recession and there are different ethnic groups speaking with different voices that do not tend to unite us as a people,'' he said.
Okowa said that apart from empowering Deltans to be self-sufficient, his administration had provided a conducive environment for the private sector to thrive.
He promised to make the state an investors' haven.
On his part, Obaseki described communication as very vital for a better society, adding that the media should adopt standard global technology.