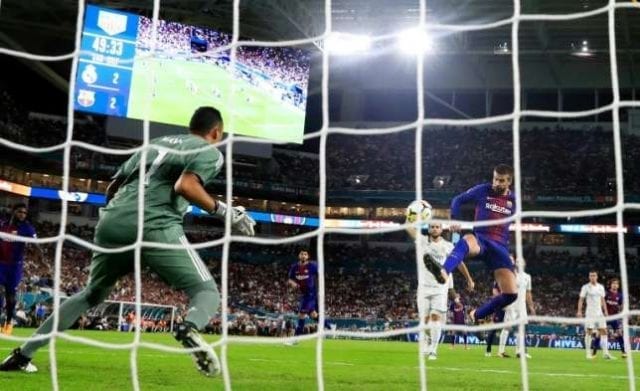 Gerard Pique scored Barcelona's match winner over Real Madrid on Saturday as El Clasico Miami lived up to the massive hype.
The Spanish international converted in a Neymar free-kick in the 50th minute to seal a 3-2 win for the Catalan giants in front of 66,014 at the Hard Rock Stadium.
Lionel Messi, who put in a superb 64-minute performance, opened the scoring after just three minutes and when Ivan Rakitic doubled the lead soon after, the writing appeared to be on the wall for a sluggish Real Madrid side.
Yet Zinedine Zidane's side quickly woke from their slumber and by the end of the first half, goals from Mateo Kovacic and Marco Asensio had pulled them level.
What followed was entertaining, often breathless friendly fare before Pique struck that decisive goal.
This was nothing more than a pre-season match and obviously wasn't going to affect the overall record between these two old rivals, which stands at 93 wins for Real, 91 for Barcelona — who had won their most recent meeting with Messi's last-gasp winner — his 500th for the club.
Madrid had the last laugh in May, winning La Liga and the Champions League, but actually arrived in Miami off the back of two exhibition defeats – a penalty shoot-out defeat to Manchester United before Manchester City also did a number on them in Los Angeles, running out 4-1 winners.
Barca, meanwhile, had beaten United and Juventus in International Champions Cup friendly competition.