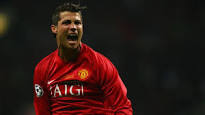 Cristiano Ronaldo has told ESPN that competition with players like Lionel Messi and Neymar is what keeps him motivated to stay at the highest level.
Ronaldo, 32, ended last season by winning La Liga and retaining the Champions League, a feat that has made him favourite to land the Ballon d'Or for a record-equalling fifth time.
The Portugal international says that "healthy" competition with the Barcelona duo and other elite players is what makes him strive for more.
The Real Madrid forward said when asked what other player or players makes him the best: "To mention one is hard, but the level that I am is like in other sports: Formula One, NBA …The best players always follow the best players.
"They want to be in the top of the game because the other ones are there. You cannot rest or sleep because the other ones will pass you.
"Of course we fight with everyone, with Neymar, with Messi, [Robert] Lewandowski, [Gonzalo] Higuain, with the best players in the world. This is not "fighting" but it's healthy. We fight to be the best.
"It's my motivation: to be better than them, year after year."
Despite the success he has achieved professionally and everything that has come with it, Ronaldo said that family remains the most important thing in his life.
He said during a visit to China: "I was with Peter Lim, the owner of Valencia, and he said to me: 'Cristiano, we have money, fame, everything. I have millions and billions. But the most important thing is family. Keep your family healthy, good. Take care of them.'
"You have your private life, your girlfriend, your cars, your houses, your fame, but in the beginning, your family is always with you, in good moments or bad moments."