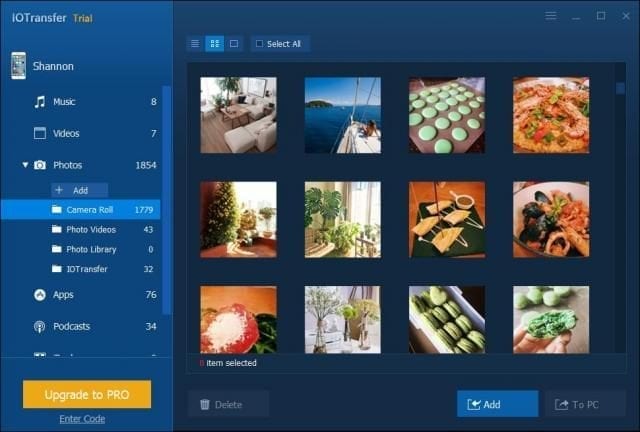 In recent years, revolutionary changes have been observed in internet sector as well as technology sector. Nowadays people keep all their data, whether confidential or non-confidential, in their smart gadgets like iPad or iPhone. However it is suggested that in order to avoid any future inconvenience due to data loss, the data should be transferred to two or more secure platforms.
Considering the customers' requirements, IOTransfer application is providing free iPhone transfer to share, backup, transfer and synchronize your photos, music, videos and data between iOS devices and PCs in a convenient way without the need of iTunes or iCloud.
Features of IOTransfer application
1. iPhone/iPad photo transfer and management:
a. Two-way photo transfer: A feature through which one can easily transfer/export or share his/her iPhone/iPad images to another iPhone/iPad or PC with ease, without the need of iCloud.
b. Direct access and intuitive view: This feature allows your PC to access your iOS devices photos and images. This feature enables you to view photos based on different albums, which are same as on your iPhone/iPad and further customization can be made by choosing between differently sized icons along with the date.
c. Bulk delete iPhone/iPad photos: If one is tired of the pictures consuming too much space in the ROM, he/she can delete these pictures in bulk from his/her PC rather than clicking on every single picture on their iPhone/iPad and hence making their lives less cumbersome.
2. Free iPhone music transfer and management:
a. Free iPhone music transfer with ease: This feature allows fast transfer of music between IOS devices and PC in any format supported by IOS such as mp3.
b. A better alternative to iTunes: The reason behind IOTransfer being more user friendly then iTunes is that it provides marginal utility by transferring and saving your music to PC, which iTunes does not offer.
c. Batch transfer for music backup and sharing: This feature allows quick and convenient transfer of music to IOS devices and PC and also allows to create a backup on PC which is safer than aniCloud backup. One can also share music with his/her friends by using this feature.
3. Free iPhone video transfer:
a. Powerful two way video transfer: This transfer allows sharing of videos without any loss in quality of video in order to provide the user with an enhanced experience.
b. Easy to sync multiple devices: This feature allows you to synchronize your videos to IOS devices or PC efficiently.
c. Backup videos and free up space: Transferring videos to PC is safer than iCloud or storing it in an external drive because there can be a chance of loss of data and one doesn't have access to internet all the time to access the iCloud storage.
4. Transfer iPhone data, backup IOS files:
a. Transfer iPhone applications to different iDevices: With IOTransfer, now you are able to transfer iPhone applications to iDevices just with a single touch.
b. Enjoy e-book anywhere: IOTransfer allows you to import your favorite e-books from your PC to multiple IOS devices.
c. Transfer and backup audio files: IOTransfer enables you to transfer your audio files, such as podcasts, anytime from your IOS devices and also free up spaces on your IOS devices after backup is created.
Verdict:
As we know that nowadays people keep all kinds of their files in their smart gadgets such as iPad/iPhone and there should be a good iPhone/iPad manager with which the data could be kept safe. Considering the outstanding features of IOTransfer, it can be concluded that IOTransfer is a better freeware application than iCloud because it can provide a more safe and reliable backup for all kind of files, without the need of internet. Everything is available on one touch/click and quick, whether you want to delete files in bulk, transfer files or share files with friends. So if you are an iOS user then you cannot find better software than this.