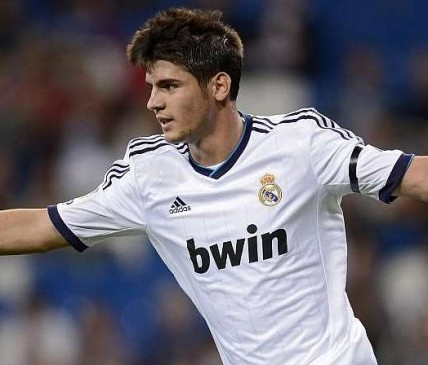 You only get one chance to make a first impression, so the pressure is already on Alvaro Morata to make an impressive start as a Chelsea player when he faces Bayern Munich in Singapore on Tuesday. But with the mounting attacking problems facing manager Antonio Conte, the onus on Morata to banish Chelsea's blues with a stand-out display against the German champions cannot be over-stated.
Chelsea enjoyed a serene cruise to the Premier League title under Conte last season, with Eden Hazard and Diego Costa scoring 36 league goals between them. Pedro also weighed in with nine, which laid out the obvious depth of the team's scoring threat. But as they prepare to begin the defence of their title next month, following the Community Shield clash against Arsenal at Wembley, Conte must do without that prolific trio of goalscorers.
Costa has become persona non grata at Stamford Bridge, with Conte making it explicitly clear to the Spain striker that he has no future at the club. The Brazil-born forward is almost certain to leave for Atletico Madrid before the Aug. 31 transfer deadline. Hazard, meanwhile, is expected to be sidelined until September at the earliest having undergone surgery on an ankle injury sustained while with Belgium at the end of last season. The winger is back on the training pitch at Cobham, but he is still at least six weeks away from fitness.
As for Pedro, the former Barcelona forward is now battling to be fit for the start of the season after suffering "multiple fractures" in a facial injury while playing against Arsenal in Beijing at the weekend.
Michy Batshuayi, who scored twice in that 3-0 win at the Bird's Nest Stadium, is currently fit and available, but the Belgium international was handed just one league start by Conte last season and is hardly considered a reliable option, certainly on a long-term basis.
And so, all of a sudden, the spotlight is solely on Morata to dispel fears of a goal-scoring issue at Chelsea in the early weeks of the campaign. Yet as he prepares to make his debut in Asia on Tuesday, the recent arrival from Real Madrid finds himself in the unusual situation of being Conte's second choice for bolstering the team's attacking options.
Conte has candidly admitted that Romelu Lukaku was his preferred option, with Chelsea believing that he was destined for Stamford Bridge until Manchester United made their move and sealed a deal worth up to £90 million with Everton earlier this month. Morata, on the other hand, was simply waiting for United to agree a fee with Real to take him to Old Trafford, with reports that he even cut short his honeymoon in order to accelerate a move to Manchester.
Events have taken a different course, though, and Morata is now a Chelsea player, one with a point to prove to United and Jose Mourinho for turning him down in favour of Lukaku.
Clearly, one of the narratives of the new season will be the battle between Morata and Lukaku to score most goals for their new clubs. But however that duel ends, the priority now for Morata is to show everybody at Chelsea that while he may not have been the first choice, he will end up being the right choice. A good start against Bayern will put him on the fast-track to achieving that aim.
Preseason is primarily about preparation time, of course, but the value of making a big impact early on is obvious and no forward wants to wait too long for his first goal in new colours. But with the problems Chelsea have regarding Costa, Hazard and Pedro, the onus on Morata is perhaps greater than Conte would wish it to be for his new man.
Lukaku has started well with United, scoring twice so far this summer, and he has the advantage of being seasoned in the Premier League following his time at Chelsea, West Brom and Everton. Morata, meanwhile, is new to English football and will also have to adjust to the reality of being a first-choice forward, something he was not during his time at Real.
Morata faces all kinds of new challenges with Chelsea, but many good judges in Spain believe it will not faze the former Juventus forward. But until he steps onto the pitch and starts to play for Chelsea, there will be lots of questions waiting to be answered. And Conte needs them all to be answered positively, because he has taken an almighty gamble by cutting Costa adrift.
Conte missed out on his top target to replace his most reliable goalscorer and will also start the campaign without Hazard, his team's talisman. The dream scenario of Morata being able to find his feet gradually is no longer an option, so it will be the best news possible for everyone at Chelsea if he hits the ground running against Bayern on Tuesday.