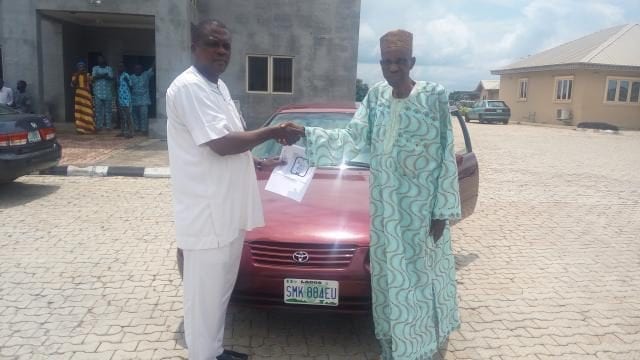 A 76-year-old community leader of Akoni village, Pa Ayinde Odeyemi via Bode Olude, Ajumbu Opeji Area of Odeda Loca Government Area of Ogun State, has become the the latest beneficiary of the Senator Buruji Kashamu-inspired Omoilu Foundation empowerment programme.
He was presented with a Toyota Camry car on Monday, 24th of July, 2017.
Presenting the car to Pa Odeyemi, the State coordinator of the Foundation, Mr. Leke Shittu said the gesture was part of Senator Kashamu's commitment towards the uplifting the people.
He added that it was only when wealthy Nigerians assisted the government by committing to the cause of the people that a better society for all can be guaranteed.
Replying, an elated  Odeyemi described Senator Kashamu as a God-sent and helper of the masses who derives joy in doing good.
"Senator Kashamu is God- sent. His type are rare; people like him are not many in Nigeria. I am 76- year-old and I know when I see a rare breed.
"I am at a stage where moving around for business transactions is very difficult. I need an operational vehicle. I have been hiring commercial taxi to move around. It has not been easy and with the present economic situation in the country, I do not want to rely on my children before I take care of myself. This car will ease my movement. I can now move around and supervise my businesses across Ogun State.  We need leaders like Kashamu in Nigeria. He takes delight in wealth creation and distribution. God will continue to enrich his pocket. I am the happiest man on earth," Opeyemi said.