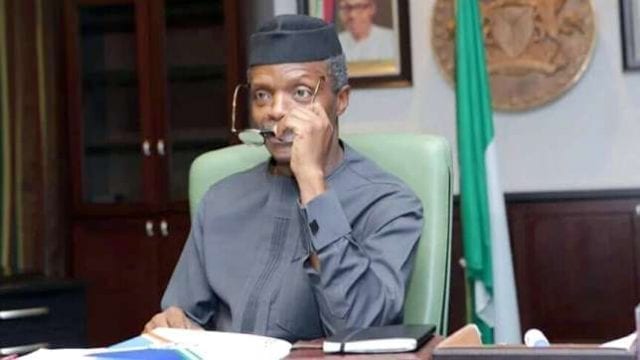 The Acting President, Prof. Yemi Osinbajo, has blasted Tuesday's attack and kidnap of oil exploration workers and members of the civilian JTF in the Lake Chad Basin Frontier Exploration.
This is contained in a statement issued by the spokesman to the Acting President, Mr Laolu Akande on Sunday in Abuja.
Akande said the acting President is sad with bereaved families and victims of the attack and ordered immediate search and rescue of the persons abducted.
According to Akande, the acting President also wished the injured quick recovery.
He noted that the exploration activity was to enable new sources of oil for the common good of Nigerians.
He praised the military for the progress already recorded in the rescue of some of the abducted persons.
He said that Osinbajo, however, ordered the continuation of search and rescue missions to locate and ensure the freedom of all remaining abducted persons as soon as possible.
According to Akande, the acting President urged them to use all available and expedient means in the circumstances.
He added that justice would be pursued for the victims and against those who engaged in "this kind of unacceptable, criminal and terrorist conduct''.
He also paid tribute to the officers and men of the Nigerian Armed Forces for their resilience, courage and bravery.
Akande said that the acting President commended the armed forces' gallant endeavours and sacrifices toward maintaining the peace, security and territorial integrity of the country.
"Some of these extraordinarily selfless Nigerians from the NNPC and the University of Maiduguri put their lives on the line that we and generations to come will enjoy the resources of this land.
"We will never forget that sacrifice," he quoted the acting President as saying.
Although pockets of terrorists had launched attacks recently in Borno State, the Acting President assured the people of the State, the region and indeed Nigerians of triumph.
He said,"the government is not only on top of the situation but will define the end of these atrocities by both winning the war and winning the peace in the North-East.''