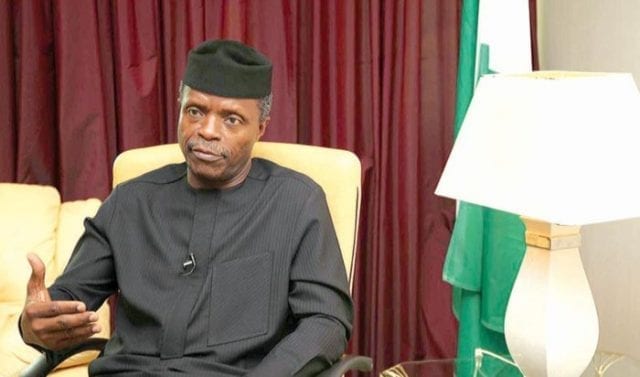 The Acting President, Prof. Yemi Osinbajo, on Tuesday called for more collaborative efforts among government institutions in Africa to provide effective leadership that would tackle challenges in the continent.
The acting president made the call while opening the 16th Commonwealth Speakers and Presiding Officer's Conference, Africa Region in Abuja.
He said that angst and cynicism of the populace in Africa and the developing world was worse, adding that conflicts, corruption, weak institutions had ensured that the largest number of the poor and deprived came from Africa.
"There is unanimity of opinion that it is the failure of leadership.
"So, while we speak of our legislative halls as hallowed chambers, our courts as temples of justice, and the executive villas as corridors of power, they are all suggestive of grand but isolated institutions,'' Osinbajo said.
He, however, expressed optimism that with stronger collaboration between the National Assembly and the Presidency, poverty, hunger and disease could be reduced to the barest minimum.
"Poverty, hunger and diseases can become history by pursuing those legislative and executive options that target education, food security and healthcare for all.
"The national assembly and the executive have shown that when we work together we can make the quantum leaps in bettering the lives and livelihoods of our people,'' he said.
The acting president said that Federal Government was making tremendous progress in the agricultural sector due to progressive legislative appropriations.
According to him, today by a combination of progressive legislative appropriation to agriculture, importation of rice has dropped by over 80 per cent. And, we will be self-sufficient in rice production by the end of 2018.
"Again, because we chose to work together, the national assembly, at the request of the Executive appropriated N500 billion for the largest social investments programme in sub-Saharan Africa.
"The fund allows us to engage 500,000 young graduates in our N-Power scheme, to give cash transfers to a million of the poorest in our society and to extend micro-credit to a million market women, artisans and small businesses.
"It enables us to begin a social housing fund in the sum of N1 trillion with government putting in N100 billion annually,'' Osinbajo said.