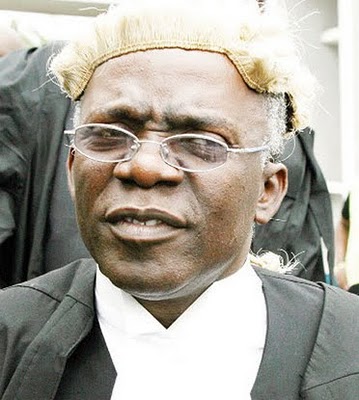 Femi Falana, a Senior Advocate of Nigeria (SAN), has reached out to the Senate President to return the pension he received from the Kwara state government.
This is the latest development after the Socio-Economic and Accountability Project (SERAP) commended the Senate President's decision to stop receiving pensions.
He said "The Senate president, Dr Bukola Saraki, announced last week that he had stopped collecting pension as a former governor of Kwara State following the protest by the Socio-Economic and Accountability Project, SERAP.
"According to the Senate president, the moment his attention was drawn to the allegation of the payment of double salaries, he wrote to the Kwara State government to stop the payment of his pension.
"In like manner, three serving ministers in the Buhari administration who are former governors have disclosed that they are not being paid pensions from any of the state governments.
"Other ministers and legislators who are former governors and deputy governors should speak out so that Nigerians can know the public officers who are involved in the illegal collection of pension from state governments and salaries from the Federal Government at the same time.
"Apart from writing to the Kwara state government to stop further payment of the pension due to him under the former governors pension law of Kwara State, Dr Saraki decided to contribute to the debate on double payment of salaries by some ex-governors.
"Since Dr Saraki has come to the conclusion that the collection of the pension is immoral, he is advised to refund the pension he had collected from the Kwara State government since he became a senator in June 2007.
"He should also relinquish the house bought for him in Abuja by Kwara State government since he is said to be receiving housing allowance as president of the Senate.
''However, while Dr Saraki is commended for demonstrating leadership by example with respect to the illegal collection of the ex-governors' pension he should proceed to use his position as the president of the Senate to prevail on the 20 other senators who are former governors and deputy-governors to stop further collecting pension from their state governments since they are currently receiving jumbo salaries and allowances from the national assembly."