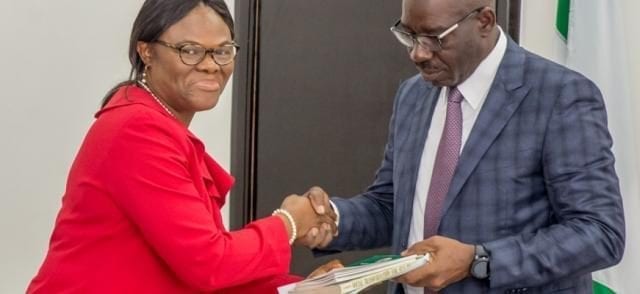 Governor Godwin Obaseki of Edo State has indicated interest to work with the National Orientation Agency (NOA) and German partners, Konrad Adenauer Stiftung, towards promoting citizen engagement with all arms of government in the country.Obaseki who made the commitment when Executive members of the NOA, Edo State Directorate, paid him a courtesy visit at the Government House in Benin City on Monday, said that his government would be tasking NOA to share programmes that it has developed that can be domesticated and adopted.He emphasized the need for programmes designed for the public to be credible and able to win their trust instead of just being nice songs on television.
He harped on the critical role of public trust in governance and tasked orientation agencies to rise to the challenge before them."We want to move beyond sloganeering. We have the Ministry of Communication and Orientation and we want to see some of the programmes you have designed which we can adopt and domesticate," he said.Obaseki stressed that it was time for hard work and urged NOA to communicate the state government's achievements in the trending 'Change Begins With Me' campaign of the federal government."'The Change Begins With Me' campaign must begin with us as individuals and when we design our programmes and leave them without really domesticating and localising them in such a way that people can relate directly with them, then we will be missing the point," he added.Earlier, the Acting State Director of NOA, Mrs. Grace Ewere Eseka, said their visit was to intimate the governor with the programmes of the agency and seek areas of assistance.
She also called on the state government to be part of an upcoming public orientation campaign being carried out in conjunction with a German sponsor in Benin City, noting that it would provide an opportunity to share ideas on citizens' engagement with all tiers of government, institutions and agencies, with a view to creating awareness of government business and establishing enduring culture of transparency, accountability and good governance.
The event is scheduled to hold on Thursday, August 17, 2017 at Vichi Gates Hotel and Suites in Benin City and has as its theme: "Citizens' Conversation and National Interest".She assured that the NOA would work with the state ministry of communication and orientation, to actualize the progressive initiatives of the state government."The task is onerous, but worth working together for to ensure that government engages the people through meaningful and consistent dialogue as is appropriate. This will go a long way in bridging the information gap between the government and the public," the NOA acting director said. (EDSG)