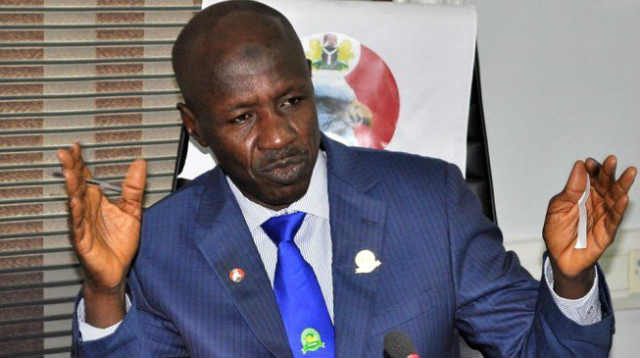 The Chairman of the Economic and Financial Crimes Commission (EFCC), Ibrahim Magu has said he knows nothing about sending people to collect money on his behalf.
This is following reports that some fraudsters have been collecting money from top ministers and other civil servants in Magu's name.
According to reports, the dupes also created a Facebook account in the name of the EFCC boss to boost their devlish scheme.
The spokesman of the EFCC, Wilson Uwujaren in a statement, said "These reports are indeed worrisome as they detract from the well-established mode of operation by the commission. As a highly disciplined and professional organisation, demanding and receiving bribes are serious offences against discipline in the EFCC. The punishment for such acts includes dismissal and prosecution. Staff of the commission are reasonably well paid and have no need to seek rent from suspects.
"Mr. Magu has not mandated any person to collect gratification under any guise on his behalf. Those doing so are simply employing the fear factor to defraud persons who apparently are too jittery about prospects of investigation by the commission."
"The EFCC, as an agency, does not condone gratification either to facilitate or 'kill' an ongoing investigation."