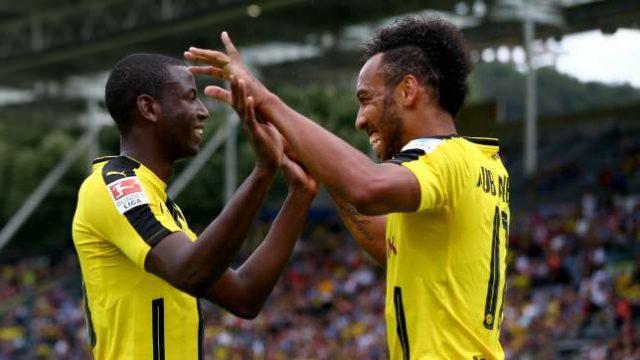 Pierre-Emerick Aubameyang has disclosed that he will not leave Borussia Dortmund this summer but he remains open to a transfer in the future.
Aubameyang, 28, has been linked with AC Milan, Chelsea, Manchester City and Atletico Madrid since the end of last season, and admitted he told Dortmund of his desire to move on. However, a suitable offer did not come through and he is now glad to continue in the Bundesliga.
"No-one can say what the future holds," Aubameyang said. "It is true that I spoke to Borussia Dortmund before I went on vacation.
"I told them my thoughts, that I was maybe ready to try something different. It was open and fair with Michael Zorc and Hans-Joachim Watzke.
"But none of the clubs that wanted me could make it happen. So I'll stay here at Borussia Dortmund. I like staying here very much, as I feel at home in Dortmund."
He said: "Of course, China was an option. It's only natural that I thought about it when they offered that much money. I know many people said I couldn't go to China because it would be a step backwards in football terms, but I think anyone would at least consider such an offer.
"I think we've made clear that he will stay with us," he said. "When we said that, the media wrote that he'll leave in January. No, he will definitely stay."
"I did receive an offer. However, the structures are not yet as professional as in Europe. I also noticed the back and forth when Anthony Modeste went to Tianjin Quanjian and it was anything but clear, so I set it aside.
"I believe in God and fate. I believe that everything happens for a reason, so this is the right path."
Watzke keeps doing everything in his power to scare Barcelona off making a bid for Ousmane Dembele and said that no amount of money would persuade them to do business.