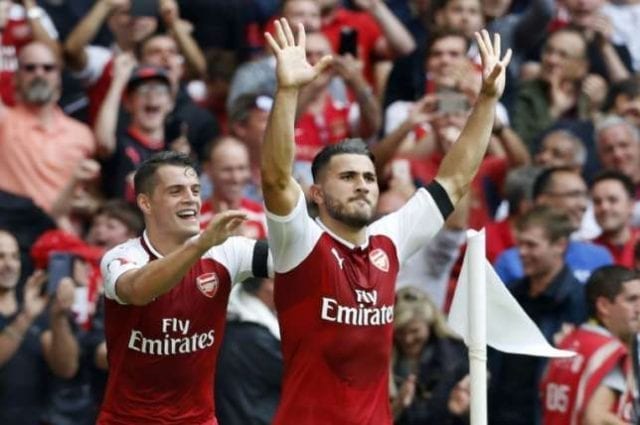 Arsene Wenger hailed an "outstanding" Sead Kolasinac after the signing scored in Sunday's Community Shield win, and said the defender's built will make him a perfect fit for the Premier League.
Kolasinac met a perfect free kick from Granit Xhaka to head in Arsenal's equaliser in the second half at Wembley, before the Gunners won a penalty shootout 4-1 to lift the preseason trophy for the third time in four years.
It was Kolasinac's very first goal for the Gunners after joining on a free transfer this summer, and came despite playing in a back three after he replaced the injured Per Mertesacker in the first half.
"I think he was outstanding today," Wenger said. "He is physically very strong, naturally. You have players who were pumped up in the gym and players who were born strong. And he's the second part. … In the Premiership power plays a part. But it's not only that, I bought him as well for his attitude.
"I believe the modern game doesn't tolerate as many weaknesses anymore as it did 20 years ago. And it's always a combination of talent and attitude. He looks to me that he has good talent but as well a very strong and determined attitude, supported by a strong body."
However, Mesut Ozil and Aaron Ramsey are both maybes for that game after sitting out Sunday's match.
"Mesut got a kick on his ankle and is swollen. He couldn't play, he couldn't practice yesterday. Overall, we'll see, he has a little chance to play on Friday night," Wenger said. "Ramsey has a chance to play, but I think he will be short as well with a little calf problem."
"I'm very happy because we won a trophy that we wanted to win, and because I believe the quality of the game was very good, two teams who gave absolutely everything," Wenger said. "And overall the game was of great intensity and quality.
"And even when we were 1-0 down we didn't panic, and kept control of the game and came back. So overall the performance is a continuation of what we did at the end of last season. … We had some bad starts recently in the last four years in the first game of the Premiership. But we had the intensity in the games in our preparation that is needed to be ready.
"So let's go into the Premiership now with the same discipline, the same spirit and see where we can go."