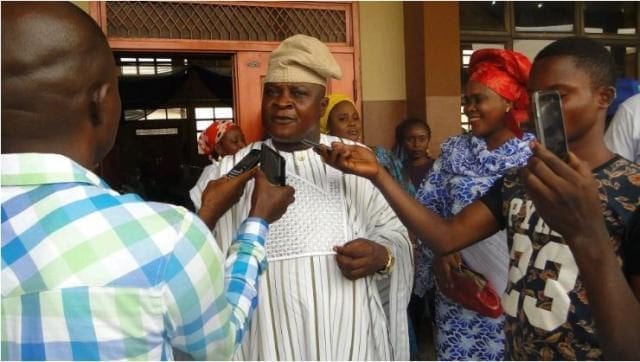 The Commissioner For Commerce, Industry and Cooperatives in Lagos State, Prince Rotimi Ogunleye has underscored the need to reposition the manufacturing sector to take its rightful position as a major contributor to the country's GDP just as he sought the continued collaboration of the Organised Private Sector, OPS, in evolving policies that will pave way for economic sustainability.
The Commissioner, who spoke at the Manufacturers Association of Nigeria (MAN), Ikeja Branch, 2017 Breakfast meeting for Directors / Chief Executive Officers, also added that the Lagos State Government will continue to improve the business environment through the provision and application of factors that are within the State government's mandates.
"As a people oriented and proactive government, we shall continue to provide promotional tools through policies and programmes tilted towards the task of achieving the goals of sustainable trade, industrial, and economic development" the Commissioner stated.
Ogunleye disclosed that the State Government is currently at the concluding stage of its Industrial Policy, stressing that various laws are being promulgated to ensure adequate security, social welfare and economic well-being of the people of the State.
These laws, according to him, include that against land grabbers and kidnapping and underscore the present administration's interest in creating a safe working environment.
He noted that the realities of this present time have placed the responsibility on the State to harness public and private investments with a view to having a dynamic and expanding economy that is functional and investor friendly.
The Commissioner maintained that the various projects of the present administration in the areas of security, urban renewal, road infrastructure, development of Industrial Parks and other economic zones, light up Lagos scheme and Employment Trust Fund are geared towards creating an economy that will strengthen the real sector to continually respond to consumers needs.
Ogunleye, who lamented that the country has over the years depended mainly on earnings from crude oil resulting in the neglect of other sectors of the economy, particularly the real sector, opined that restoration of the economic stability of the country depends largely on reinvestment in human capital and material resources.
"We have to considerably improve our power supply to give impetus or velocity to the operations of the Small, Medium and Large businesses and indeed the entire real sector to thrive better. With steady power supply, the cost of production will be drastically reduced and with proper micro economic management, provision of roads and infrastructural facilities and efficient ports operations, the environment will be healthier for the real sector to thrive and stabilize", the Commissioner reiterated.
He commended MAN for its relentless contribution to economic growth, amidst the present economic realities across all sectors in the economy.
Ogunleye charged the leadership of MAN to use the opportunity of the forum to develop a survival strategy for the real sector that would be enduring and effective, urging them to take advantage of tested and successful policies in developed economies and adapt them.
He described the theme of the forum "Nigerian Economic Recovery: Strengthening the Real Sector" as apt and timely, especially in the light of the need to assist the country in getting out of the economic uncertainty and return to the path of self-sufficiency and stability. (LASG)