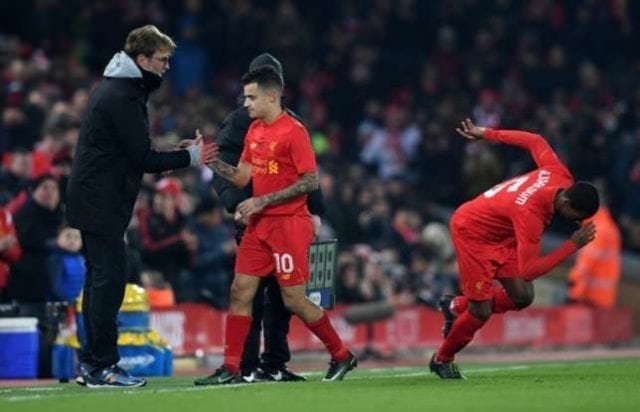 Liverpool boss Jurgen Klopp will keep an open mind on the Reds' participation in the transfer market, after signing off on an unbeaten pre-season with a 3-1 win over Athletic Bilbao.
The Reds boss saw 19-year-old summer signing Dominic Solanke net another goal, along with 17-year-old Ben Woodburn, while Alberto Moreno impressed at full back.
"We've always said that until August 31 we'll run through the world with open eyes, that's clear, but it's not us alone who decides about these things. It's all about other clubs [too]," said Klopp.
"I thought today and this pre-season brought us new players, if you want. Alberto Moreno is 100 per cent back, which is very nice after a really difficult year.
"Andrew Robertson shows all the skills he has, of course he still has to adapt to our way of playing but you can already see what a threat he can be offensively.
"That means James Milner is free for midfield, so without being in the transfer market we have a new midfield player, which is nice.
"Dominic Solanke, I think he's already shown that he's ready for some adult football. Ryan Kent, I've known him for one-and-a-half years and last year he developed unbelievably well and this pre-season is completely different to last pre-season, he's completely showed up now.
"So, without paying too much money or the highest transfer fees we have additions in the squad. That's good."
Daniel Sturridge and Adam Lallana were also missing through injury, with the latter out for up to three months, but Klopp says he must now focus on next week's Premier League opener against Watford.
"Everybody knows about the injury to Adam Lallana, it's a big blow, but this team deals with so many difficult situations and they will deal with this," Klopp said.
"Phil (Coutinho) had back problems yesterday and today so there was no reason for any risks, the same with (Jordan) Henderson. He was a little bit ill, so we said 'OK, no risk today'. Daniel, of course, has a little muscle problem, but the squad is big and I thought I saw today that a few boys really showed up.
"We will rotate, that's clear, that's not my problem at the moment, I'll prepare for the Watford game from tomorrow on and then the next game, and then the next game, and then I'll think about how we can do this."