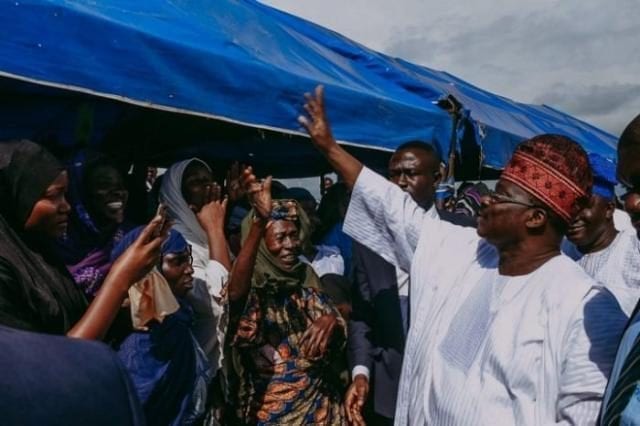 The Oyo State Chapter of Nigeria Union of Pensioners (NUP) has hailed the state Governor Abiola Ajimobi for the payment of two months, April and May 2017, pensions to pensioners in the state.
The NUP in an August 8, 2017 letter to the Governor, titled: Letter of Appreciation to 'Baba Ibeji' (father of twins) and signed by its Chairman, Pa Gbadegesin Akande and Secretary, Comrade Olusegun Abatan explained that in view of what is happening to pensioners in other States of the Federation, the union appreciated the kind disposition of the governor.
According to the letter, the pensioners stated "on behalf of Oyo State Pensioners, we, offer our profound appreciation to you on the payment of the two months of April and May 2017 pensions to Oyo State Pensioners.   In view of what is happening to pensioners in other States of the Federation, we really appreciate your kind disposition."
The NUP commended the governor for the appropriateness of the setting up of the Community Relations Department, saying that the members of the department will no doubt be the eyes as well as the ears of the government and would give the true picture of the happenings in the polity.
"We commend you for this sagacious decision. The Committee, in her interface with our Union, called for a joint meeting of all the three forums of Chairmen and Women, who are the main representatives of Pensioners of the Union," the union stressed.
The union said that they are not in opposition with the government whose leadership was conferred with the "Best Pensioner-friendly Governor in the history of Oyo State, describing the Nigeria Union of Pensioners as a non-political, non-religious organization that cannot be in opposition to the government.
The NUP said, "This statement is important to debunk insinuations in some quarters that the NUP does not love this government. Now that the financial situation in respect of income to government is improving, we pray that the governor will be empowered to not only pay another "Ibeji"(two months) but "Ibeta" ( three months) and clear all arrears of gratuities and pensions.
"While we appreciate you on behalf of State Pensioners, we appeal to your Excellency to extend this kind gesture to retired Primary School Teachers and Local Government retirees by also granting them two months Paris refund and fashion out template to vacate the state's indebtedness to these teachers and Local Government Pensioners. We also await the intervention of N1b promised to kickstart the gratuities of these people which had not been paid since 2008," the NUP added. (OYSG)