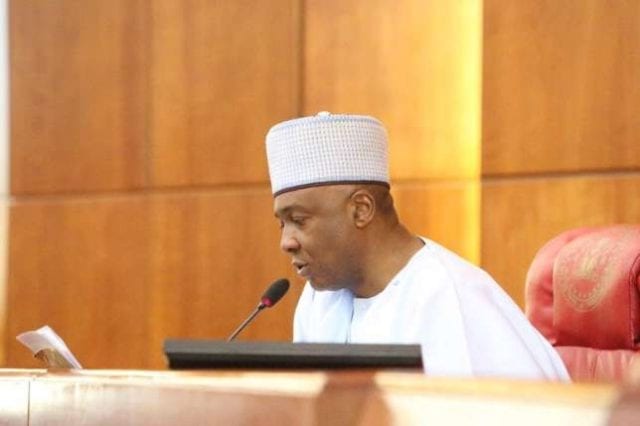 The Socio-Economic Rights and Accountability Project, (SERAP) has welcomed Senate President Dr Bukola Saraki's step to stop receiving pensions from Kwara state.
The group also begged him to join in the campaign to end the unjust, unfair and discriminatory practice of providing life pensions to former governors and to cancel laws that make this possible.
According to SERAP, the Senate President said, "No, I'm not collecting pension; the moment I saw that allegation, I wrote to my state to stop my pension."
A statement issued by the group's executive director Adetokunbo Mumuni reads:"It's good news that Dr Saraki has publicly made known that he has stopped drawing pensions from Kwara state. We hope that other public officials still receiving double emoluments will follow Dr Saraki's example and renounce such practice. We also urge the Senate President to publicly commit to donating to charities of his choice all pensions and allowances he has so far collected or to such emoluments to the public treasury.
"The Senate President to use his leadership position to urgently facilitate a resolution by the National Assembly condemning the practice and laws on double pay and life pensions for former governors now serving public officials; urging state assemblies to abolish such laws; and calling on those that have received such emoluments to return them to the public treasury."
SERAP also called on "Dr Saraki to work with us to put meaningful pressure on other states to abolish their unfair and discriminatory life pensions laws as well as on serving senators and ministers who continue to receive double emoluments to end the practice and return all the emoluments they have so far received to the public treasury. Dr Saraki can start by putting pressure on the governor of Kwara state Mr Abdulfatah Ahmed and the state house of assembly to move swiftly to abolish the law that has facilitated the payment of the unjust pensions in the first place."