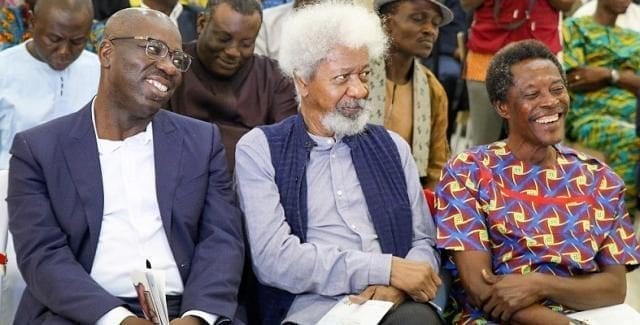 The Edo State Governor, Mr. Godwin Obaseki; his predecessor, Comrade Adams Oshiomhole; Nobel Laureate, Professor Wole Soyinka and the Chairman Presidential Advisory Committee Against Corruption (PACAC), Professor Itse Sagay on August 3 made attempts to answer questions about the knotty issue of restructuring the nation.
Speaking at the 20th Wole Soyinka Annual Lecture with the theme: "Nigerian State in the Aftermath of the Centenary: Prospect For its Indivisibility" held in Benin City, Governor Obaseki who was the chairman of the occasion, said Nigeria's unity was non-negotiable and maintained that it was possible to make Nigeria great and prosperous again.
Obaseki said that having the right leadership at all levels of government and the different aspects of life was the panacea to the recurring problem of the clamour for self-determination in the country.
''The question of whether Nigeria has come to stay is a non-issue, the real issue is what sort of country should we create for ourselves?" He queried.
He explained that his administration was making concerted efforts to provide good leadership for Edo people and make positive impact in the lives of the youths to enable them take charge of their future.
He commended the organisers of the lecture, noting that the topic was apt and timely, considering the agitations across the country.
In his presentation, the guest lecturer and former governor of Edo State, Comrade Adams Oshiomhole, said what should be paramount in the minds of Nigerians should be how to make the Nigeria Project a viable reality.
He explained that what needed to be addressed in the country was the socio-economic structure as well as the problem of bad leadership which has corruption at its core.
"It is not in our interest that after 103 years of existence, we should be thinking of dividing. It is not a viable conversation that having lived this long together we should divide, rather we should think of ways of doing things differently for better results," Oshiomhole said.
He frowned at the wasteful spending of scarce resources by some government officials, noting that resources should be properly channelled to improve the standard of living of the masses.
"The structural issue in the country needs to be addressed, the issue is really that of the very rich structure and the very poor structure. In addressing our challenges, we should restructure our attitude, character and value system and manage our resources well so that a very rich nation such as Nigeria will be able to take care of her poor people.''
Also speaking, the Chairman PACAC, and a discussant at the lecture, Prof. Itse Sagay, said a return to true federalism would promote good governance in the country.
Sagay urged that states be given autonomy as a situation where state governments have been reduced to mere civil servants, depending on monthly allocation was not ideal. "Why should the centre have all the resources and states be impoverished? This has led to the inability of state governments to carry out their responsibilities.''
In conclusion, Prof. Wole Soyinka, in whose honour the event was held, called on all Nigerians to unite against the common enemy of corruption, stressing that in Nigeria, it is not actually one tribe that is against the other or one religion that threatens the other, rather it is the league of the corrupt that has caused impoverishment of the numerous ordinary people. (EDSG)