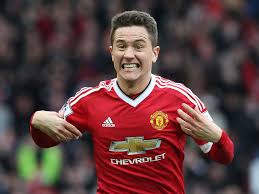 Manchester United midfielder Ander Herrera has said Jose Mourinho's team will fight for "every title" when their new season begins on Sunday.
United — narrowly beaten 2-1 by Real Madrid in the Super Cup in Macedonia on Tuesday night — won the Community Shield, the EFL Cup and the Europa League last season but did not challenge for the Premier League.
He said they could take a lot of positives from the defeat to Madrid and told United's official website: "The Premier League starts on Sunday, and there is no time to be upset — we want to be contenders for the title and we want to fight for every title this season.
"Last season we won three trophies, which is very good, but we didn't fight for the Premier League.
"That's our aim for this season and we have a very good squad. We are going to play in four competitions and we want to fight for all of them.
"In every position, we have two very good players, so I am optimistic for this season."
"We are playing at Old Trafford in front of our fans and we want to win the first game of the season," he said.
"We have to respect West Ham because they have a very good team and they have signed very good players."