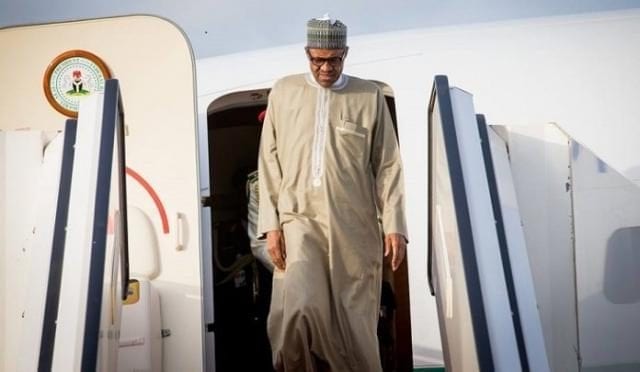 Muhammadu Buhari will exit the country for the United States of America (USA) on Sunday, September 17, 2017 to attend the 72nd session of the United Nations' General Assembly in New York.
Reports say he president will meet with his US counterpart, President Donald Trump, and other world leaders during the session where the welcoming reception will be hosted by the UN Secretary General, Antonio Guterres.
It also said the president will pass through London on his way back to the country, a move that's bound to raise eyebrows.
President Buhari will travel with Governor Abdulaziz Yari of Zamfara state, Governor Dave Umahi of Ebonyi state, Governor Rotimi Akeredolu of Ondo state, and other key members of his cabinet.
A statement backing this news read "During the General Assembly, Nigeria will participate in high level meetings on 'Prevention of Sexual Exploitation and Abuse: Building Momentum for Change,' the Commonwealth Heads of Government Meeting, a High Level Event organized by the African Union under its Theme of the Year: 'Roadmap on the Demographic Dividend: from Commitment to Action,' among others.
"At the events, President Buhari and members of his delegation will strive to project Nigeria as a strong moral force and responsible member of the international community.
"Nigeria's commitment to global peace, security and development will also be reaffirmed and where necessary, the need for increased international cooperation in the fight against corruption.
"Other priorities for the Nigerian delegation at UNGA 72 include strengthening human rights institutions; the rule of law; support for Internally Displaced Persons (IDPs) as a result of terrorist acts and recent flooding, and mitigating the effects of Climate Change.
"The Nigerian delegation will also canvass the support of UN member states for the Buhari Administration's efforts towards combatting illicit financial flows in order to foster sustainable development.
"The president will be accompanied by the governors of Zamfara, Ebonyi and Ondo States, and key cabinet ministers."
"President Buhari will transit through London on his way back to the country."