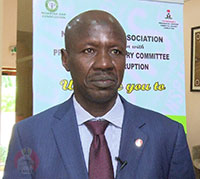 The Economic and Financial Crimes Commission (EFCC) has praised recent move by the judiciary to focus on corruption and financial crime cases brought before it.
The commendation is in a statement by Spokesman of the EFCC, Mr Wilson Uwujaren.
Uwujaren quoted the commission's Acting Chairman, Mr Ibrahim Magu, as saying the development was the way forward.
"In order for the NJC to monitor and effectively enforce the foregoing policy, anti-corruption cases trial monitoring committee will be constituted at the next council meeting.
"This committee would be saddled with, among other things, the responsibility of ensuring that both trial and appellate courts handling corruption and financial crime cases key into and abide by our renewed efforts at ridding our country of the cankerworm," the CJN had said.
He quoted the EFCC boss as saying "the spate of frivolous and unwarranted adjournments at instances of defence for the purpose of stalling proceedings is over.
"With special courts, cases stand great chance of being disposed of quickly.
"We had clamoured for the creation of special or dedicated courts for over six years.
"So, the action of the CJN is commendable."