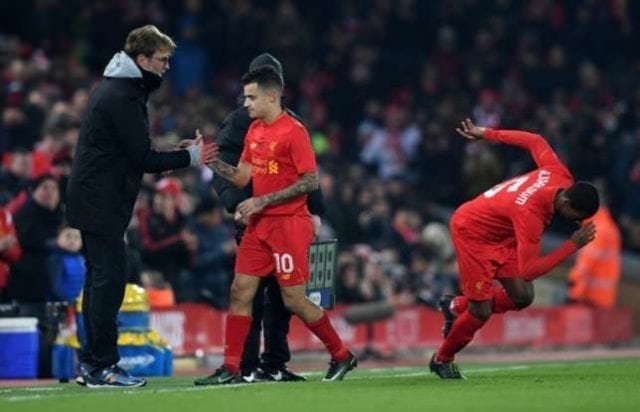 Jurgen Klopp has said Philippe Coutinho's reemergence into the Liverpool side has been made easier by the nice reaction from fans.
Coutinho did not feature in the first six matches of Liverpool's season as he looked to clinch a move to Barcelona in the recent transfer window, but has since returned to Klopp's side and received a great reception from the Anfield crowd when he made his return as substitute in the 2-2 draw with Sevilla earlier this month.
"It's not about Coutinho's character but it says a lot about the relationship with our supporters and Phil Coutinho," Klopp said. "Because when he came on [against Sevilla] for the last 15, 20 minutes, nobody knew how Anfield would react.
"Anfield pushed, it was really there, and that's what I really love in football.
"Maybe we don't agree always in each moment, like people are, but when you have a short minute to think you remember we are family.
"That's how they reacted, they really loved it and that helped Phil a lot. He can play football, he can be concentrated on football, he can perform."
Gerrard played alongside the little magician for two-and-a-half years and would often try to avoid defending against him at Melwood.
"He's impossible to defend against," Gerrard told BT Sport. "I mean when I used to train against him, I'd hate it if I was on the opposite five-a-side team. I wouldn't go near him. And sometimes I'd say to him: 'Keep away from me!'
"He can embarrass you [as a defender]. He can stand you up, he can both ways, he's got such a low centre of gravity. He's sharp, he's quick and he's two or three steps ahead of defenders. He's so, so clever.
"He produces moments of genius and he's a world class footballer."