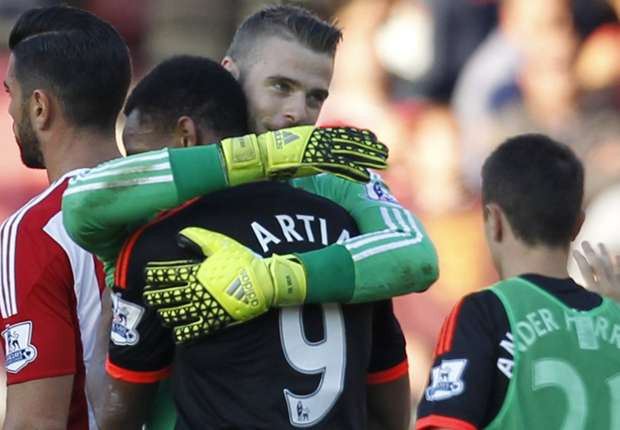 Jose Mourinho confirmed David De Gea will start Manchester United's Champions League match with Basel despite choosing Sergio Romero ahead of the Spainiard for vital Europa League games last season.
De Gea did not feature in the Europa League final against Ajax in Stockholm, among other matches in the competition, as Mourinho decided to field his No. 2 Romero.
But De Gea will be back in goal when the Champions League returns to Old Trafford for the first time in nearly two years on Tuesday night.
"I go match by match. I don't like that clear separation of you play this competition, I play this competition. David is really well and really confident and I go with David."
De Gea, meanwhile, has said he was in support of the decision to pick Romero in the Europa League, while claiming he is a better goalkeeper because of the competition offered by Argentina's No. 1.
"I always want to play every game but it was a manager decision [to pick Romero] and it was good because we won the competition.
"We fight for the position to play and it is good for the group, to keep working hard in training.
"All three, Sergio, Joel [Pereira] and me train really hard to be the player on the pitch to play the games. I feel really strong, really confident. Every day I train hard to be in the XI and that's it."
"Of course it was hard to watch Champions League games on TV. A club like Manchester United not being in those games, it was hard.
"Now we are back and we are really motivated to win Champions League games. We need to play our best football to win those games.
"It is good to be back in the Champions League, especially at Old Trafford because I think it is almost two years without a Champions League game at Old Trafford."
De Gea has watched Real Madrid, a team he has been repeatedly linked with, lift the Champions League three times in the last four years.
De Gea, however, has said the gap between Zinedine Zidane's reigning champions is not that big.
He said: "I don't know, there are strong teams in England. Normally in England we never had a break in December and January and it can be a tough moment for English teams to prepare for Champions League games.
"But the level is more or less the same. Spanish teams are in a good moment but Manchester United is one of the best teams in the world."