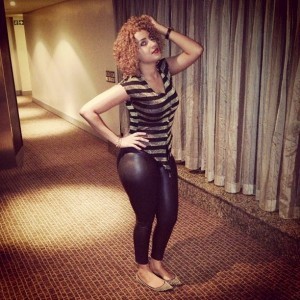 Juliet Ibrahim and Iceberg Slim are looking more and more like a couple in recent days.
The celeb couple who are in South Africa both wore matching T-shirts with the inscription "LOVE".
She captioned the picture, "Just realized I have never had a #MCM on Instagram, so let me drop this one.Tag him if u know him pls…#MyKing #Oluwa #Travel2SA #Bae #JUICE South Africa will always hold a special place in my heart."
Over the past few months, these two lovebirds have shared pictures of themselves on Instagram, damning the consequences of the ever-prying eyes of the public.
The beautiful Ghanaian actress in the way to raise funds, she has created the hash tag #MakurdiFloodReliefChallenge which is a way to challenge a lot of people to help donate both money and relief materials.
Among those who have helped in cushioning the plight of the flood victims is Made Men Music Group C.E.O Ubi Franklin.