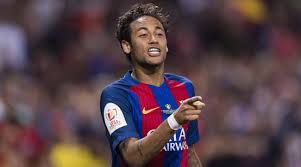 Santos president Modesto Roma Junior has confirmed that PSG will pay the Brazilian club nearly €9 million in solidarity money after Neymar's €222m summer move from Barcelona.
"We have received an email [from PSG]," Roma told UOL Esporte's Rodrigo Mattos. "The club have apologised for their delay in getting in touch, claiming they have a lot to resolve, and they are making arrangements to make the payment. They are very serious people, who are not in football for fun."
According to reports, Santos contacted PSG at the time of Neymar's move from Barca to remind the Ligue 1 giants of the formative club's rights — something that Neymar himself was very keen on guaranteeing his former employers will receive.