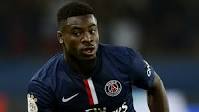 Tottenham have finalized the £23 million signing of Ivory Coast international Serge Aurier from Paris Saint-Germain.
Aurier, 24, has signed a contract until 2022 after he was granted clearance by the Home Office.
Today, the right-back was told that the French courts had downgraded the criminal conviction he received for assaulting a police officer last year, allowing him to successfully submit a normal work permit application.
"This is a huge and exciting opportunity at a massive football club and I am determined to prove myself as a professional both on and off the pitch," he told Spurs' official website.
"This is a fresh start for me and I will do everything to make the Spurs fanbase, which is huge and diverse, proud of me. The fans are the most important people at any club and I am looking forward to showing them and everyone at Spurs the real Serge Aurier."
A message on PSG's website read: "Paris Saint-Germain thanks Serge for the fighting spirit he always showed in the red-and-blue shirt and wishes him all the very best for the new challenges that await him at his new club in London."