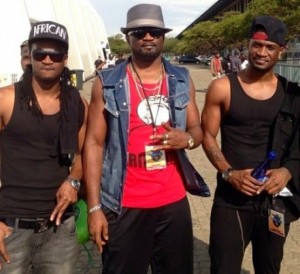 Paul Okoye has said he will not be touring USA and Canada.
A curious fan who had read the reports asked if the group would still be touring America and Canada, something they had announced earlier in the year. It was organized by popular promoter, Joy Tongo.
"I was highly waiting for the Psquare tour of America/Canada this summer which they promised us in August/September, but till now no update about that. Please I ask is it still going to happen @rudeboypsquare @peterpsquare @judeengees," the fan with the username Mr_pej had inquired.
Paul Okoye simply replied: "Not happening."
Reports spinned out recently that the Okoye brothers are back to their beef, again.
This is the second time in two years that this is happening. In 2016 things went bad when the brothers engaged in a public row over the restructuring of the business, with Peter Okoye leading the voice for change. Jude Okoye was sacked in between, and Paul Okoye has shown his loyalty, even to a fault by sticking with Jude.
Peter Okoye, the other member of the group is yet to confirm anything.