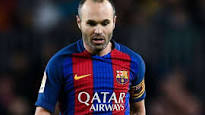 Spain's World Cup winning hero in 2010 Andres Iniesta believes next year's tournament in Russia is likely to be his last at international level.
"I am realistic. There is a great chance this World Cup will be my last event with the national team," Iniesta said.
"I am aware of the moment, my age and everything it entails, but we will see how things develop.
"There are many months still to go until the World Cup and hopefully everything will go well so that I can be in Russia."
Iniesta refused to rule out even retiring at club level at the end of the season when signing his new contract last week.
And he insisted the idea of the lifetime contract is to give both him and the club freedom to decide when the time is right for his playing career to come to an end.
"The idea of the contract is to evaluate every season how I can perform or what I can still mean as a player," added Iniesta.
"Right now I still feel like a footballer and I don't have a vision of what I want to be in a few years."