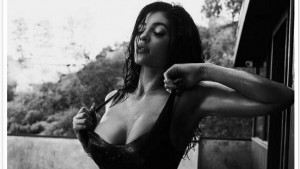 Kourtney and Khloe Kardashian have been the root of so many pranks, usually to each other or to another family member.
This time the sisters united to prank their younger sibling, Kendall Jenner, as she slept in the other room during a trip to Santa Barbara, as seen in a teaser for Keeping Up With The Kardashians.
After asking Twitter for ideas, Khloe and Kourtney decided to put squares of chocolate in Kendall's bottom while she snoozed.
It all started when Kourtney pondered what kind of prank they could do to Kendall after she went to bed early.
'Is there anything we can do to Kendall?' Kourtney asked Khloe in the KUWTK episode, which airs on E! Sunday.
The 38-year-star came up with using fruit as part of the joke: 'What if we put a blueberry….'
Khloe finished her thought, adding …'up her a**?'
The 33-year-old star, who is reportedly pregnant with her first child, also came up with idea of covering Kendall with baby powder.
Naughty Kardashians.