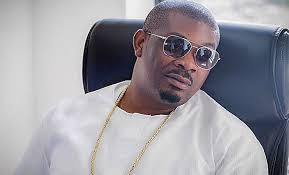 Nigerian fans want D'banj and Don Jazzy to reunite and make music, but one producer isn't excited about that possibility. His name is K-Solo.
He said that the former Mo'Hits partners can never make a hit song again.
"The only legacy he (Don Jazzy) has is D'banj. And D'banj is even struggling," K-Solo says. "They are quarrelling themselves every day. Fighting petty fights.
"They shouldn't come back. If they come back they cannot anything again. Nothing can happen. If they doubt me, let the two of them get into a studio for one year and come out with something, and see if they can make it a hit. They can never make a hit again."
"Don jazzy needs to improve on the skills of his beat. And D'banj is trying to switch. And Wande Coal has not switched. The only blessed thing about Wande is his vocals. His voice synthetics is very strong. Lock D'banj and Don Jazzy together and they cannot do it."
D'banj and Don Jazzy parted ways in 2011 after irreconcilable differences in the future of the business. At the time of their split, the record label was also home to Wande Coal, KaySwitch, D'Prince and Dr Sid.