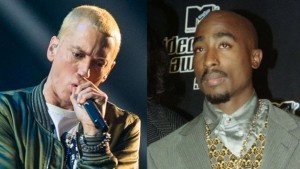 With just a few days until Eminem's new album arrives, fans have been wondering whether he'll launch a worldwide or at least a US tour to celebrate the brand-new material.
Well, US supporters have had their prayers answered by the hip-hop legend's agent, Cara Lewis, who has confirmed Slim Shady will be going on the road. She's told Pollstar that the tour will happen next year on 'select dates', however there's no indication of how many shows he'll do.
Cara adds: "Hip-hop is the most-consumed genre in music. Streaming has enabled this genre to grow even bigger and at a far quicker pace due to the unlimited global access it provides in music, video content and sharing."
The news of the tour has certainly won the adoration of people in America, but not so much for everyone else around the world who have been gagging to see him.
Eminem was recently asked about whether he was gearing up for another tour by Interview Magazine, but his response was: "I'm not sure. We usually do mini tours."
The 45-year-old recently appeared at the Reading and Leeds Festival where he got the crowd pumped with all his old songs and led everyone on a 'Fuck Trump' chant.
Some were hoping the appearance would lead to a new song being dropped – but fans had to wait until last month when he released 'Walk on Water' featuring Beyoncé, which is the first track on Revival. People went fucking wild for the song, which touched on his reflection of his career so far and wondering whether fans still cared for him.