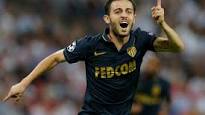 Bernardo Silva is hoping to begin his Manchester City career by taking advantage of the creative void left by Leroy Sane's absence over the next couple of months.
"I've never played much on the left," Silva said ahead of City?s clash at Turf Moor. "But this season I've played a few times on the left, on the right, in the middle.
"I know I'm not a fast player like Leroy Sane, I know I cannot do some of the things that he can.
"But I try to do other things and of course I try to improve myself."
"I want to try to get even better because this is not even close to what I can do for this team so I think I'm improving and I want to improve more and more."
"Every game we have to try to get the three points," Silva added.
"That's what we always do and what we've been doing since the start of the season so now we have to think about the Burnley game and we?ll try to get the three points."