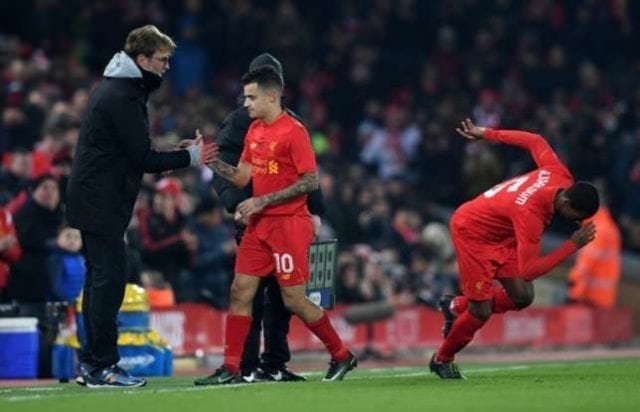 Jurgen Klopp has said "no one was in the dressing room dancing" after Liverpool's Champions League quarterfinal with Manchester City after Wednesday's night 3-0 win, insisting it was only "half-time" and that Pep Guardiola's side still have the ability to turn to the tie around.
Klopp said: "I am too long in the business. Being against us 3-0 down, [City] need to open up a little, maybe we can use it. I don't know.
"But it is not decided. It is better than 1-0, it's better than 3-1, it's much better than 3-2. But it's only half-time. No one was in the dressing room dancing around after the half-time result. This is about 190 minutes or so."
Klopp added: "I don't feel we are already through. We have to work. I have no problem with that. You have to celebrate the party when the party starts, not four weeks before and I cannot ignore that we have to play in between another game.
"The only place where the people are more happy about the result than here is Goodison [ahead of Saturday's Merseyside Derby]. We have to fight there and then we have to fight again. That's our life, but it will not be easy."
Klopp was particularly pleased with how his team defended on the night, especially when City began to assert themselves more in the second half.
"It was really good," he said. "It was two different halves, in the first we were very, very active in all parts of the game, perfect in the spaces, very lively closing the gaps.
"This kind of defence dominant, not too deep, being in the right area of the pitch so if we win the ball we have a big opportunity to use the space we have.
"We used that really well, and scored three fantastic goals. In the second half, we defended very deep, concentrated, no shot on target, all that stuff, but when we have the ball we have to play more football as well.
"How can you be dominant against Manchester City for 90 minutes? That would be a real surprise.
"They had no shot on target, I don't know how we did that. You can't even plan that. If I told the boys if City wouldn't have a shot on target I'd be really happy, that would be crazy. That is pretty rare. They are a fantastic football team. They didn't play bad, they just didn't create."