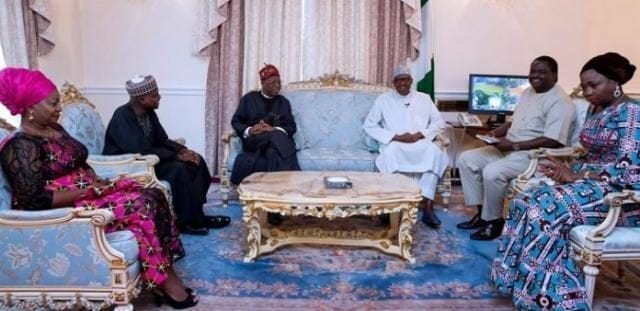 The Presidency has asked Nigerians to pause and count the many blessings of President Muhammadu Buhari's government to the country's economy.
"The presidency wants Nigerians to count the blessings that the administration of President Muhammadu Buhari has brought to the country's economy, irrespective of the other areas where the government is still working hard to ensure that every citizen can feel the change for which they massively voted in 2015," Shehu said.
"We wish, however, to caution that these comments should not be misconstrued as denying that there is more that needs to be done, as the current administration is relentless and determined to continue in its task of continuously improving the lot of Nigerians.
"We are only saying that we must learn to pause and count our blessings. The loud voices of critics with selfish ambitions and ulterior motives should not be a veil that keeps Nigerians blind to the many ways God has blessed us and improved our lot through the Buhari administration," he added.
"Last year, the World Bank ranked Nigeria among the top 10 reforming economies in the world. This was clearly in recognition of the thorough and rigorous growth and development-oriented economic policies of the Buhari administration," he said.
"In line with campaign promises, this administration is spending trillions of naira to build railways, roads and ramp up power supplies.
"Today, investors and businessmen and women from around the world can arrive in Nigeria and get their visas right at the airport without any hassle. This is just one of the many reasons why Nigeria has advanced 24 steps in the global 'Ease of Doing Business' rankings of the World Bank.
"The government is spending more on infrastructure than previous administrations, despite earning barely half of what the country earned from oil between 2011 and 2014 when the product was selling for an average of $110 per barrel.
"The latest GDP figures show continued growth after the Buhari administration successfully brought the country out of recession, with virtually all sectors of the economy now on the rebound, and significant progress recorded in agriculture.
"Has anyone heard of the Graduates-in-Agriculture Scheme in several states of the federation, a self-driven, government-assisted programme by which our young men and women are stopping their endless wait for white-collar jobs and creating wealth for themselves and the nation?
"Power generation and distribution have more than doubled from 2015 when President Buhari took power to the present," he added.