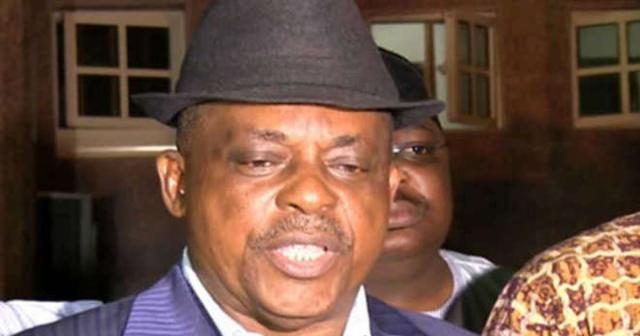 Uche Secondus has mocked the ruling party, All Progressives Congress, APC, saying the party has broken into two.
Secondus said: "APC is broken into two. Can you ask Fayemi under which of the factions is he contesting? Because the broom has scattered, the broom has broken."
There are reports in the media that former President Olusgeun Obasanjo and a group of ex-Generals have come together to unseat President Buhari in 2019.
President Muhammadu Buhari and former President Olusegun Obasanjo exchanging pleasantries at the Presidential Villa in Abuja, before OBJ later withdrew his support for the incumbent administration. (Bayo Omoboriowo)
Secondus was at the rally with members of his national working committee.
"Standing here is the rescue team. PDP will rescue Nigeria from economic collapse, security collapse, and all sorts of inhuman treatments meted out by the APC government," he said.