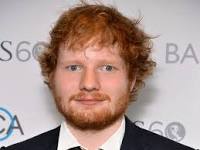 Ed Sheeran hasn't played the Fargodome since 2013, but a full house made the singer feel right at home Wednesday night.
The crowd, ranging from teens to 70-somethings, cheered as he walked to the stage for "Castle on the Hill." The tune may be about Sheeran's English hometown, but the Fargo crowd stood rapt in attention.
The singer/guitarist records riffs and lines and loops them back, making him a one-man band on the stage. Well, a one-man band with about 19,000 backup singers.
"This is the biggest gig I've ever played in Fargo," he said.
Ed Sheeran performs Wednesday, Oct. 17, 2018, at the Fargodome. David Samson / The Forum
Sheeran was little-known when he opened for Taylor Swift in 2013, but he made a good impression then and in the years since. It was recently announced that he was the biggest-grossing solo artist of 2017, his music is played everywhere and he seems to be universally loved as he's already played 150 dates on his current tour.
As one of the few stadiums on the current leg of the tour not home to a pro baseball or football team, the Fargodome may have felt intimate to the star.
While he spent most of the show by his pedal board at centerstage, he raced back and forth across the front spitting out the rap to "Erasure."
The 27-year-old threw it back a decade for what would be his first hit, "The A Team." Even a folk tune about a homeless drug addict had the stadium enthralled, and few would sit through the show.
With so many hits, Sheeran had to make medleys of a few songs, and he deftly combined "Don't" and "New Man" and later "Feeling Good" and "I See Fire."
After a stirring sing-along to the latter, he kept the chorus going on "Thinking Out Loud." The crowd didn't need an invitation or instructions to accompany him on "Photograph" and "Perfect."