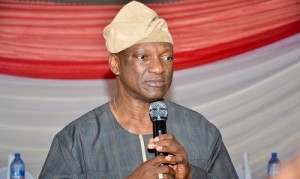 Mr. Jimi Agbaje has explained why his campaign posters are not visible on the streets of Lagos, with the 2019 general elections only four months away.
Drive through Lagos, Nigeria's commercial capital, and what immediately hits you at every turn are the imposing, stylish and colourful campaign posters of APC governorship candidate, Mr. Babajide Sanwo-Olu.
"Good morning Lagos, my team and I have gotten a barrage of questions asking why I haven't been actively campaigning in public and I think it's about time that we addressed it", Agbaje wrote in a statement.
"Let's be clear, the INEC (Independent National Electoral Commission) rules guiding this election unequivocally state that campaigning for the 2019 gubernatorial elections shall not begin until the 1st of December, 2018. In their words – not mine – and I quote: "For the purpose of this Act, the period of campaigning in public by every political party (not just candidates) shall commence 90 days before polling day and end 24 hours prior to that day."
"Now if that is the rule, then we have no choice but to abide by it – even if it might sound unpopular to do so. And quite frankly, what precedence would we set if we are not keeping to the rules of competition?
"To my supporters and well-wishers, I understand that we're anxious to get this campaign on the road, but it's important that we are also mindful of the bigger task ahead – which isn't just about winning an election but about changing mindsets and sending a strong message across Lagos that under our watch, it wouldn't be business as usual.
"If our goal is to bring reform and order to governance in Lagos, if our mission is to fundamentally transform the way government works for the greater good of our people and not a few vested interests, then we must begin by setting an example by obeying instructions. So I implore everyone to please hold on to those wonderful banners, posters and boards until the 1st of December. Let's win this one again, the right way".