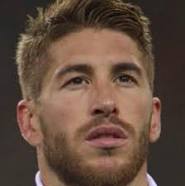 Dejan Lovren has told Copa 90 that Real Madrid's Sergio Ramos "has many more mistakes than me" as the ill feeling between the two clubs continued.
Ramos has taken swipes at Liverpool since Madrid beat them 3-1 in the Champions League final, in which he was involved in the tussle that saw Mohamed Salah go off with a shoulder injury.
When he returned to his seat behind Salah having picked up the Best Defender award at the Champions League draw in August, Ramos touched him on the same shoulder.
The Madrid defender also rubbished claims that his collision with goalkeeper Loris Karius in the final had resulted in the Liverpool player suffering concussion.
Lovren's start to life at Liverpool in 2014 was blighted by mistakes, but believes they were focused on more than those made by Ramos because of the impact they had on results at the time.
"People always catch you on these mistakes, they don't look [at the] good things," he said. "Sometimes I think I don't deserve the hate, I would say.
"If you look, Ramos, he has many more mistakes than me. But he's at Real Madrid. Ronaldo, a couple of seasons ago, when you do a mistake, but you win 5-1, 5-2, nobody sees the mistake. You know what I mean.
"I'm, like, quite unlucky. When I make the mistake it's 1-0 and finish. But like I said, I carry on."
Reacting to Ramos picking up the Champions League defender of the season accolade, Lovren said he was overrated and felt Madrid teammate Raphael Varane had been more deserving.
Asked to rank his top five current defenders, the Croatia international said: "Virgil [van Dijk], I would say, because we had a great season.
"Me and him, we reached the final of the Champions League. I would say Varane, he deserves a lot of credit. But I think he doesn't get it as much. Ramos gets it and I don't agree with that."
Asked whether he felt Varane was better than Ramos, Lovren said: "Definitely. For me, at this moment and previous years, yeah.