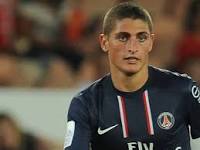 Marco Verratti has admitted that "the last few days have been difficult" after he committed a drink driving offence in midweek.
The Italy international was caught over the legal limit for blood alcohol content and now faces a lengthy ban from driving. Speaking in the mixed zone after Kylian Mbappe and Neymar goals helped PSG to a 2-1 home win over Lille that moves them 11 points clear at the top of Ligue 1,
Verratti expressed his desire to make amends.
"The last few days have been difficult because I made a mistake," he said. "I have apologised to my teammates, the coach and the supporters — I have an image to uphold.
"On the pitch, I am 100 per cent, but I will give even more in order to be forgiven. After this experience, it will not happen again in the future. Verratti then switched his attention towards next week's Champions League Group C clash away at Napoli.
"I think we prepared well for Napoli with a serious performance," said the 25-year-old. "Next Tuesday could be decisive. Napoli are a very organised team, which is why we needed to prepare in the best possible way.
"Napoli have done very well in the Champions League in previous years and if we organise ourselves well, I think that we can get a result there."
Coach Thomas Tuchel made it clear that Verratti's drink driving offence was an issue for the club to deal with.
"Marco cannot do what he did two days before a match," the German tactician said. "The club must handle these things."
Tuchel then went on to explain that Adrien Rabiot was not a substitute for a second consecutive match as further punishment for being late to a recent team meeting, but that Julian Draxler was rewarded for his good display in Marseille last weekend.