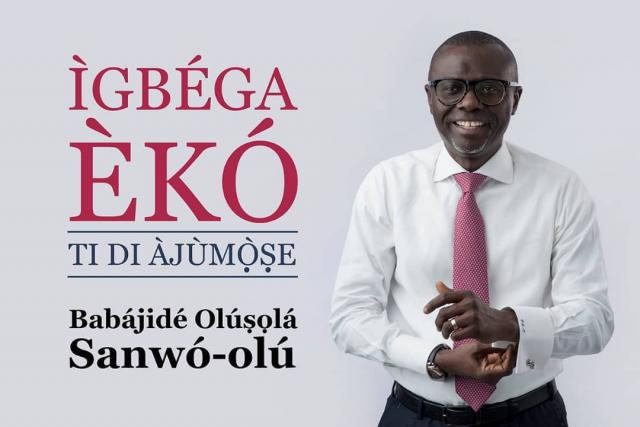 The KOWA party has said it was not among parties that announced an endorsement of the All Progressives Congress (APC) gubernatorial candidate in Lagos State, Mr Babajide Sanwo-Olu, in the 2019 election.
Mr Abhulimen Marvins, Public Relations Officer, KOWA Party Lagos denied being a member of the coalition backing Sanwo-Olu's candidacy.
On Nov. 1, 45 political parties under the aegis of Coalition of Progressives Political Parties in Lagos State (CP3) entered a coalition to endorse the APC gubernatorial candidate in Lagos State, Mr Babajide Sanwo-Olu, for the 2019 election.
Chairman of CP3, Mr Aderemi Fatukasi said that the coalition was against the People's Democratic Party (PDP) in Lagos State.
Reacting to the development, Marvin said KOWA party never had a discussion or entered into any coalition to support Sanwo-Olu.
"It has come to our notice that the APC and its agents are claiming that KOWA Party is in an alliance with 44 other political parties in Lagos state endorsing their candidate for the gubernatorial elections in Lagos state.
"We want to use this medium to state categorically that KOWA Party in Lagos state has never had any discussion with the APC in Lagos to endorse its candidate for the elections.
"KOWA Party in Lagos state is focused on its candidates for Legislative Offices at the federal and state levels.
"We implore all our members, supporters and well-wishers in Lagos state and beyond to disregard all such rumors and keep faith with KOWA Party as we go into the 2019 elections.
"We promise to deliver candidates that would make a positive difference in the political space in the overall interest of the nation " Marvin said.
The Progressive People's Alliance (PPA) has denied involvement in the endorsement of the All Progressives Congress (APC) governorship candidate, Mr Babajide Sanwo-olu by some opposition parties for 2019.
The state Chairman of the party, Mr Olumide Oguntoyinbo, made this known in an interview with the News Agency of Nigeria (NAN) on Monday in Lagos.
According to media reports, 45 opposition parties in the state, including People's Democratic Movement (PDM), Young Democratic Party (YDM), Accord Party, New Nigeria People's Party (NNPP) and Action People's Party (APP) adopted Sanwo-olu for the 2019 polls at a meeting on Friday.
PPA, Independent Democrats, Legacy Party of Nigeria (LPN) and People's Redemption Party (PRP) were also listed as members of the "Coalition of Progressive Political Parties (CPPP),'' that endorsed the APC candidate.
Reacting, Oguntoyinbo said PPA was not part of the arrangement as it had an ideology different from that of the APC.
He said whoever had attended the endorsement meeting on behalf of the party was on his own, as both the state chapter and the national Secretariat did not approve membership of any coalition.
Oguntoyinbo said that the party was fielding a candidate for the governorship poll and could not have been in CPPP or any other coalition against its candidate.
"Let me state clearly that we are not part of the coalition of the parties that endorsed Sanwo-olu for 2019.We can never be part because we have our candidate.
"If we are to join any coalition in Lagos, the directive has to come from the national secretariat. We did not get approval from above and the state chapter did not have any deal with any party on the coalition.
"So, whoever went to the meeting on behalf of PPA is on his own. We are not part of CPPP or any other coalition .We have a candidate and we are currently focused on achieving victory in 2019,'' he said.
Meanwhile, the People's Democratic Party (PDP) has described the endorsement of Sanwo-olu by 45 opposition parties as false and laughable.