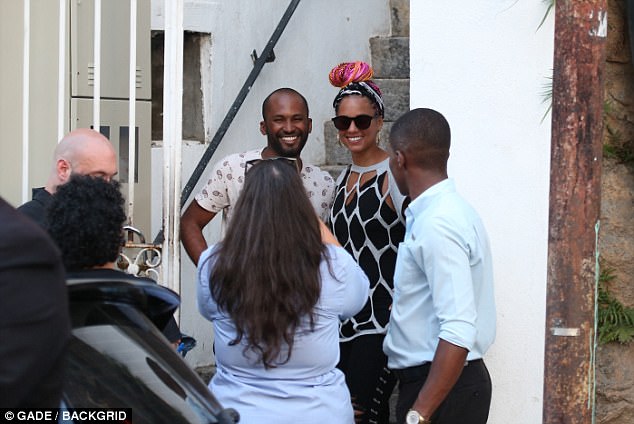 Music producer, rapper and entrepreneur Kasseem Dean — aka Swizz Beatz — is happily married to Alicia Keys.
Especially since his wife of eight years surprised him with a flashy Aston Martin for his 40th birthday in September.
But don't be fooled by Keys' gift. When asked which spouse is better with finances, Dean doesn't hesitate: "My wife is definitely better than me with money," he tells CNBC Make It. "Are you kidding me?"
"She's not into anything materialistic," Dean says. "That's why we work, because I'm the Rolls Royce, she's like, 'Where's the bike at?'"
Money is a notoriously thorny topic in romantic relationships — a 2017 survey even found that money arguments are the second leading cause of divorce (behind infidelity). Some couples get along better when they share the same approach to saving and spending, but Dean says that he and Keys have different styles that complement each other.
"I think that us being the opposite with money makes us compatible, because it balances," Dean says. "I'm extreme, she's conservative. But if we're both extreme, we're going to have to work like 10 times harder, right?"
Dean says Keys helps reel in his spending sometimes, while he encourages her to take investment opportunities she might not typically consider. "Sometimes I might tell her to do something that is a little outside of her comfort zone," he says. "I'm like, 'Listen, you should maybe invest in that," or, "You should look at this.'"
Indeed, he has some less-than-conservative investment strategies. Dean spoke with CNBC Make It while promoting his No Commission art fair, a traveling, curated art fair in collaboration with Bacardi, for which artists retain 100 percent of sales proceeds. He says he eschews stocks but is a big art collector.
In two decades, he's never sold a single work and considers his collection a serious, valuable investment. (While not all financial experts would agree withthis strategy and it's not for everyone, Deans says it has been lucrative for him.)
Dean says Keys is often happy with the outcome when she listens to his advice (and vice versa.)
"So it's a great balance to have both," Dean says.