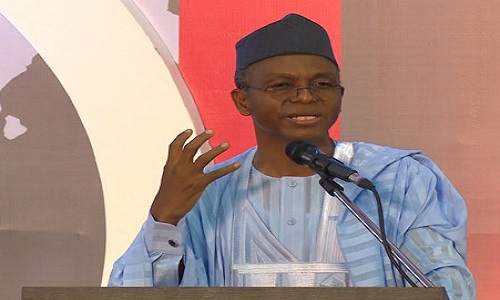 Aminu Tambuwal has reacted to a comment made by his Kaduna state counterpart, Nasir El-Rufai.
El-Rufai, on Tuesday, December 4, 2018, alleged that the people at the Peoples Democratic Party (PDP) mega rally in Sokoto state were rented from Niger Republic.
The Governor also said that the PDP had to hire people because residents of Sokoto refused to attend the rally.
In his reaction, Tambuwal accused El-Rufai of destroying the image of the All Progressives Congress (APC).
According to reports, the Sokoto state Governor, in a statement issued by his aide, Akibu Dalhatu said the APC was surprised by the "gargantuan crowd" at the rally on Tuesday.
Tambuwal said "The outcry by El-rufai is a testimony to the fact that APC and its leadership were shocked by the gargantuan crowd the rally recorded in Sokoto which serve as the final burial of APC government in the Northwest and Nigeria in general because of perpetual failure, bad leadership, massive corruption, failure to end terrorism and other security challenges bedevilling our nation since the inception of Buhari's administration in 2015.
"For the purpose of setting the record straight, El-rufai should not forget so soon that his hands were deeply involved in messing up of the present administration as a result of his bad governance and policies as a governor of Kaduna state, through mass sacking of innocent primary school teachers, unnecessary demolition of peoples landed properties, disregards and disrespect for traditional rulers, Northern elders, leaders and other respected institutions, escalation of insecurity, refusal to obey the court orders and rule of law among several others.
"El-Rufai is cold-hearted. It was the same Northwest people that he and his party begged for support in 2015. But because of the failure of APC government, incessant hunger and poverty all over the region that have made them to decamp to PDP, he is now calling them foreigners.
"What scared El-rufai and his co-travellers was the success recorded at the Sokoto PDP campaign rally. The Sokoto gathering, no doubt, instilled fear in the minds of El-rufai and his cohorts so much that in their wildest imaginations, their party – the APC – will find it impossible to record a replica of such mammoth crowd in any state of the Northwest including El-rufaI's own state of Kaduna. We therefore challenge El-rufai and APC to do same if at all they can in any of the state in Northwest.
"With Governor Aminu Waziri Tambuwal at the helm of affairs as Governor of Sokoto state and campaign coordinator of PDP in Northwest, El-rufai will receive the shock of his life in Kaduna state and entire Northwest during the forth-coming general election.
"Tambuwal as master political strategist who came second during the Presidential primaries of PDP will defeat APC hands down and deliver the entire Northwest to PDP because of massive support, love and loyalty of the people of the Northwest to him.
"Governor Tambuwal appreciates the political courage of the entire people of Northwest, their support and loyalty to PDP and sincerely thanks them and appeal to them to come out en mass during the forth-coming general election to lead PDP to victory."