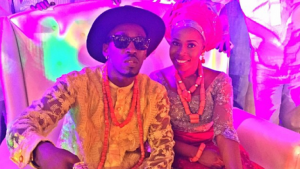 Orezi was said to have used the Instagram platform to show off a photo of himself supposedly burning up a N1000 note as he promoted his new single 'Born Broke, Die Rich'.
As usual, the reaction was not nice as fans blasted him for engaging in an illegal act that is punishable by law.
Now, Orezi has come out to say that that the video was actually photoshopped as it was simply not possible for him to hold fire so close to his face in an attempt to burn the naira.
In an interview with Punch Newspaper, the UNILAG graduate said, "I never burnt the N1,000 note like people thought, it was just graphics; an edited picture. I did not burn the Nigerian currency. If you look at the picture, you would see that the fire almost got to my eyes. If it were real, I would not have been able to withstand the heat. I cannot allow fire to burn my eyes because I want to take a picture. I replied some comments when people were criticising me because of the picture."