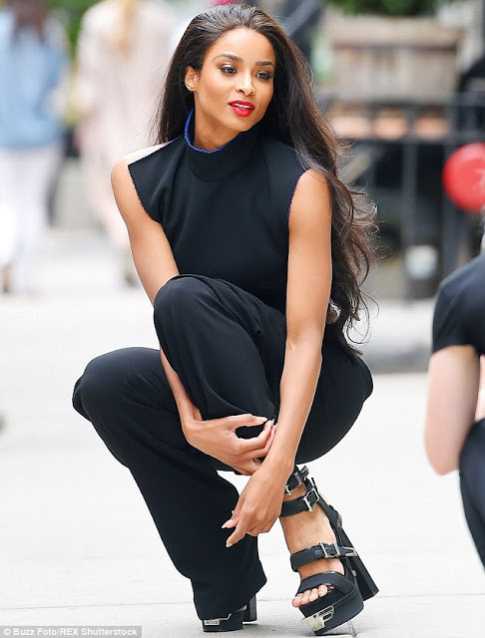 Fitness goes with Ciara's music. Not only does her music serve as an dope soundtrack for any workout, her moves are one as well.
That's partially why the pop artist and dancer was a natural choice for Equinox's latest campaign, which is all about the movement of life—something that Ciara knows one or two things about, as she balances being a musician and entrepreneur, as well as a mom and wife.
Excerpts,
Do you have a strict beauty routine? What kinds of things do you do beautywise in the morning and evening?
"I'll be honest. I'm a very simple girl. I do wash my face twice a day. I make sure I put on moisturizing sunscreen every day. I like getting microderms from time to time. It's good to exfoliate your skin. I'm kind of obsessed with seeing blackheads clear out—I'm weird that way. I'd like to believe that a lot of people are like that. More than anything, I wash my face twice a day and moisturize."
"What is the most out-there thing you've done in the name of beauty?"
The most extreme thing I've done for the sake of beauty is having stretch-mark removals. After my babies, my body was beat up a little bit and I was able to find out about this cool stretch-mark-removal process from my dermatologist in Los Angeles, named Dr. Lancer. He's not paying me to say that, but I will tell you it worked really good. I still have a few stretch marks. You know, I'll take those scars because my babies give me the sweetest joy and it's all worth it.
Did it come from a place of wanting to feel more confident in your skin?
"It was more so trying to get back to my base weight and who I was before I had babies, and that was a part of that process and taking care of me."
Where does your confidence come from? Have you always been confident in your appearance?
"No, I haven't always been confident. I've definitely had to have self talks because before I was grown up, I was one of those girls where my body developed a bit behind. I was really tall, very muscular. I used to walk with my back hunched over a bit because I was so insecure about being tall. My confidence, as far as me accepting myself physically, kind of happened later for me.
Once I got older, I realized it's actually cool to embrace all of these things that I thought were flaws.
When you get more comfortable, you realize that none of that stuff is changing, so the last thing you want to do is walk around being worried about it. Embrace what you have—that is part of loving yourself, and understanding the power of loving yourself is game-changing. Once I did that, my confidence level went up tremendously. It's the best feeling when you're not overthinking about yourself, whether it's the small mark I have on my face—which I think is a birthmark, to tell the truth. But that's a part of who I am. When I look at a lot of women that I admire, I love how they're confident. There's something so sexy about confidence, and I think you kind of grow into that."