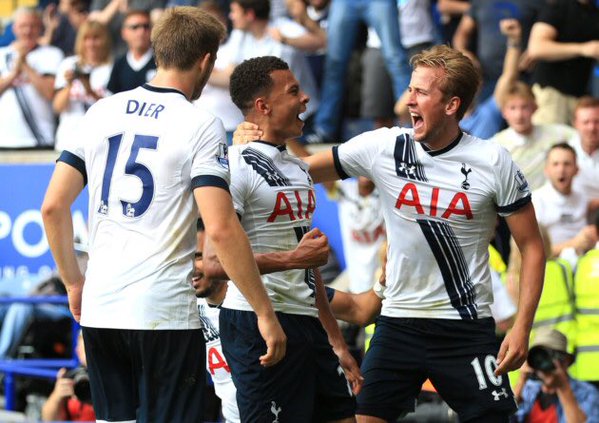 If this is to be the first trophy of the Mauricio Pochettino era then the Carabao Cup will be hard-won indeed, starting with a semi-final second leg in two weeks' time when his Tottenham Hotspur players will need to show their manager all over again if they can win the big matches.
They go to Stamford Bridge with a one-goal lead from Harry Kane's penalty, although it was a lead they clung to for the second half as if this were the latter stages of the tie itself rather than just the first leg in which they should have been pressing the home advantage while they had it. Chelsea came after them, a club of serial winners in the modern era, sensing an uncertainty about Pochettino's team that their manager could hardly have denied himself.
The goal itself was a video assistant referee call, delivered from the monitors in Stockley Park in west London while Wembley twiddled its thumbs and referee Michael Oliver told everyone to be patient. An earlier offside decision was overruled by VAR which meant that Kepa Arrizabalaga's clumsy foul on Kane was a penalty after all, and the goal machine himself dispatched the ball past the Chelsea goalkeeper despite the long wait.
At that point, Maurizio Sarri's team were struggling to fit their new formation, with Eden Hazard again central and yet once they had the lead Spurs never went in for the kill. This was their second Wembley victory over Chelsea in less than two months but given the place in the final that remains at stake it felt inadequate. They finished the game defending a lead that Sarri's players will surely believe they can overhaul when the tie concludes at Stamford Bridge on Jan 24.
There was no Alvaro Morata in the Chelsea side, left out on the premise of what was a very vague-sounding injury and not even on the bench. In his place as central striker was Eden Hazard as the most reluctant of false nines with Hudson-Odoi to his right and Willian to his left.
The English 18-year-old's inclusion after a week of all those Bayern Munich stories felt like he must be the first Chelsea academy boy who could dictate to the club rather than the other way round. He was up against Danny Rose, an old warhorse in these kind of games, and just the sort of opposition for a young upwardly-mobile teenager to test himself against. Hudson-Odoi acquitted himself well, and a cross in time added on at the end of the first half took a touch off Rose and was pushed onto the inside of the post by Paulo Gazzaniga.
Hudson-Odoi certainly always wanted the ball and looked sharp when it was at his feet, he just did not have an obvious option when he looked up from the wing. Hazard was lost for the most part between Toby Alderweireld and Davinson Sanchez and there were precious few chances for the away team in the first half.
Hazard roamed for the ball and there were a couple of occasions when he spun on it and ran at Spurs when Chelsea looked at their best. But the position does not allow him to isolate a full-back in the way that he likes and he is reliant on the quality of the ball back to him if he is going to get in behind a defence and have a sight of goal.
Spurs looked long whenever they turned possession over quickly and it was from there that they created their chances. The first was for Heung-min Son within three minutes when he was chased by Andreas Christensen and the two of them went down in a heap in the area. The referee Oliver waved that one away but by the time he went to VAR for a second opinion on 26 minutes it looked a lot worse for the Chelsea defence and Kepa Arrizabalaga, their goalkeeper.
Arrizabalaga had turned Kane upside down in a chase for the ball over the top from Alderweireld. The Spurs captain had got their first and lifted it past the goalkeeper but the whole thing had originally been flagged offside. When VAR took a second look it was clear that Kane had timed his run well and after a couple of minute of ear pointing and television set miming, Oliver could point to the spot in confidence that VAR had got it right.
Kane dispatched the penalty beautifully, to go fourth in Spurs' all-time goalscoring list, on 160 goals and one ahead of Cliff Jones.