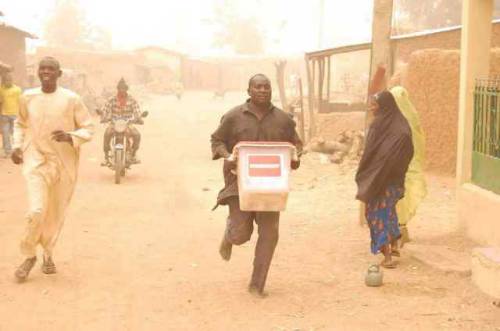 120 people that partook in several electoral crimes were apprehended by the Nigeria Police Force during the Presidential and National Assembly elections all over the country, according to ACP Frank Mbah, the Force Public Relations Officer.
He said many Improvised Explosive Device IED-making materials were also seized during the election.
According to him, getting those deadly weapons from the bad guys assisted the security agencies to ensure the safety of innocent citizens.
Mr Frank further said that the recovery of the harmful devices is the reason not so many news of explosions were heard anywhere in South-West, South-South, South-East and North Central regions of the country during the elections.
His words, "That massive interception by Delta State Police Command actually help us to nip in the bud, various dangerous things that could have occurred, probably we would have had a lot of problems on our hands during the elections; but thankfully that interception was made."
"What I want to assure Nigerians this time around is that they will see clear cases of diligent prosecution of electoral offenders. We need to begin to take measures and take actions that will send a strong message out there that election offences are serious offences and that when you commit electoral offences you will not go scot-free. That is the only way we can begin to stamp out impunity gradually,"
"We had cases where very senior police officers were attacked amounting to serious assault and we also want to send a very strong message out there that you can not attack a police officer or any other law enforcement agent for that matter and go free.
"Nigerians need to support us in this regard if we must continue to defend Nigeria. Nigerians owe us a duty to also defend us and everyone that participated in that condemnable act involving the attack on a very senior police officer in Bayelsa State will be held to account.
"We didn't record any situation where law enforcement agents turn their guns on the people, we didn't record incidences of accidental discharge, we didn't record incidences of excessive use of force by law enforcement agencies. I think these are areas we must be given kudos to, we were able to protect all election observers."