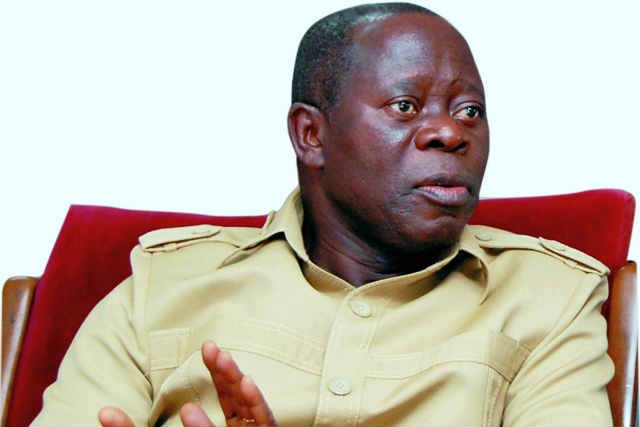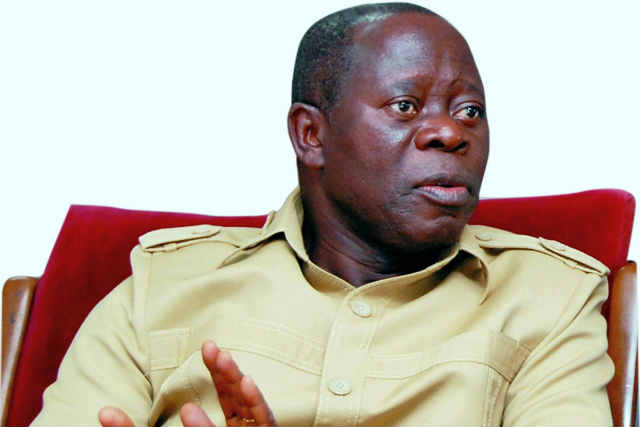 Edo State governor, Mr Godwin Obaseki has warned members of his cabinet and supporters against replying any comment made about him or his government by the National Chairman of the All Progressives Congress, Adams Oshiomhole.
Obaseki was reacting to comments by Adams Oshiomhole in the national dailies criticizing his role in the crisis rocking the state House of Assembly.
The APC chairman had said he does not feel it was right to inaugurate the House of Assembly at night.
Reacting, Obaseki has instructed his aides to pay no attention to the APC leader.
His statement read, "The onslaught against the governor and the government of Edo State, widely publicised, has been trailed by enquiries about the state government's response to these attacks from various stakeholders, both within and outside the country.
"Consequently, the Edo State Governor, Mr Godwin Obaseki, has instructed that no state actor, within the Edo State Government, should make any comment whatsoever, or join issues on the ensuing hostile comments and discussions."
The statement added that Godwin Obaseki had also picked the path of reconciliation in dealing with the issues.
But the Edo Peoples Movement, on Monday, said the statement issued by Obaseki on Adams Oshiomhole was funny and lacked tactics.
Their statement read, "Obaseki can only fool us once. He cannot fool us again. We are wiser now.
"So, I urge them to go and do the right thing than to think they want to deceive the public that he is a peace maker when in actual fact he is the root cause of the crisis in Edo APC.
"It is also a deceit on the part of the governor to say that he does not want to react because he is pursuing peace.
"What peace is he pursuing when he has yet to issue fresh proclamation for the inauguration of the state Assembly?"