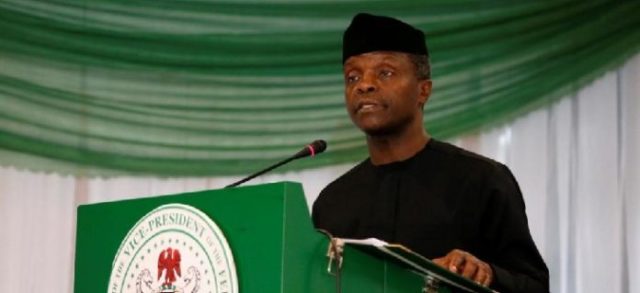 Vice President, Yemi Osinbajo has come out to say that the Federal Government is working with important agencies to boost access to cheap capital for Micro, Small and Medium Enterprises, MSMEs.
Yemi, who revealed this as he declared open the 25th edition of the National MSME Clinic, in Asaba, said small scale businesses were important for economic growth and development.
Saying the lack of access to less costly capital was the main hindrance of small business operators, he pledged the commitment of the Federal Government to get rid of anything preventing the growth of small businesses all over Nigeria.
His words, "We are all trying to work to see how to achieve single-digit interest rates for loans to MSMEs with a tenure of between 5 to 10 years and a repayment plan of a minimum of one year in each case.
"Without access to cheap capital, it is impossible to do what we expect MSMEs to do. This is an ongoing concern and we are open to ideas on how to bring down the interest rates.
"Let me remind Federal Government regulatory agencies that we are determined to create a Nigeria where small businesses are nurtured and encouraged to prosper.
"Nigeria is an economy driven largely by MSMEs, and it is clear that there can be no real national growth and development if we do not ensure that small business grows and develop.
"So, We strongly believe that the MSMEs are the engines of growth, and therefore committed to remove all the obstacles standing in the way of MSMEs to give them all the support", saying some of the gains of the national MSME clinic were the launching of one-stop-shop in some states, as well as the launching of shared facilities across the country."
"We have also begun launching shared facilities across the nation, and the purpose is to provide reasonably priced assets to world-class business equipment for MSME in cluster phases.
"What this means is that MSMEs has cleared the financial burden of having to buy the equipment in order to do business. The shared facilities have been pre-certified by relevant agencies, removing the need for the MSMEs to pursue the certification.
"So by taking away the burden of acquiring, managing the equipment, the clinic intends to further catalyst the growth of MSMEs."