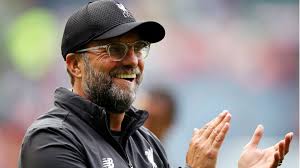 Liverpool will break their EPL title drought this season, according to ex England manager, Sven-Goran Eriksson.
Liverpool last lifted the English First Division title back in 1990 and after finishing one point short in their last campaign, they are set to clinch their long-awaited domestic success.
Sven, who is a lifelong fan of the club has now said he is certain that this is Liverpool's season to rule domestically after a very long time.
His words, "It will be their year, for sure,"
"I'm a Liverpool fan. I always have been, all my life.
"Klopp is doing excellent. They're playing very good football, there's a good spirit and they always come back even if they are down.
"I am quite sure that this is the year that Liverpool will win the Premier League and it's about time.
"They played very well last season. Of course, they won the Champions League, but they seem to be even more mature and they believe in what they're doing.
"They believe that they are the best, even if they are down they come back and they trust what they are doing."
"Manchester City has been doing extremely well for many years now, before Pep and with him of course,"
"They can't win the league every year because the competition gets bigger and bigger.
"You cannot expect to win every year because you have things in football – you have injuries, you have mental things. It's good for football – you don't want to see one team winning every season."